Live at Brennan's
November 3, 2022
An exciting night of local singer/songwriter music of Tom Barrett, James Calleo, and Sean Kiely as well as light fare set in the historic William J. Brennan Court House.
---
Art Fair 14C
November 11 – 14, 2022
Art Fair 14C is New Jersey's annual international art fair with a Jersey attitude.
The fair provides a showcase for hundreds of artists from New Jersey, New York and around the world, giving area art lovers exposure to a wide variety of visual arts, of all kinds and for all budgets.
---
Jersey City Theatre Center
JCTC's 2022/2023 season is going strong. Check out some of their upcoming performances including "The Last Match" , a rock musical premiering on Nov. 14 at White Eagle Hall.
---
Hoboken Art Walk & Studio Tour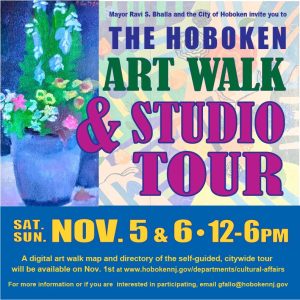 Free, City-wide, self-guided walking tour of galleries, artist's studios, murals and community art displays. Meet the artists and discuss with them their create process.
---
Pompeii: The Immortal City
Journey through time at the Pompeii: The Immortal City exhibit at Liberty Science Center. See artwork and artifacts from Pompeii, interactive device and multimedia experiences. Open until May 14th, 2023
---
New Jersey Vegan Food Festival
Two-day celebration on November 12 & 13 that features yummy vegan and plant-based meals from local chefs, as well as vegan products, plant-based fashion, live music and good times.
---
Shades of Autumn Tour
NY Waterway's "Shades of Autumn" cruise celebrates the arrival of the fall season with fun and enjoyment for cruise goers of all ages
---
Machinal by Sophie Treadwell
Inspired by the infamous 1927 Snyder/Gray murder trial, this rarely-performed masterpiece portrays the hardened soul of America in the Machine Age.
---