Hudson County Presents
The office of Hudson County Cultural & Heritage Affairs / Tourism Development has some exciting events coming up this month! Keep reading for a sneak peek on what we have planned…
Join us for our family friendly Hudson County Halloween Fest at 902 Brewing Co. to kick off your weekend of exciting holiday festivities. Face painting, pumpkin decorating, balloon twisting, trick or treating, games and plenty of delicious BBQ bites, there will be something fun for everyone! Live Music from Shark Hat and Iron Mike starts at 12 Noon. Quality, locally brewed beers from 902 Brewing Co. available all day. All ages welcome. Pets too.
Join us for FREE intimate discussions with local experts on immigration and Hudson County, from its earliest settlers until now.  The panels will cover a wide range of immigration topics, from early settlers, to Ellis Island, to the struggles that face immigrants today. This panel series is part of a program entitled "Hudson County & Immigration: The Story of America" and is made possible by a grant from the New Jersey Historical Commission.
---
Hoboken Arts & Music Festival
This weekend on October 2nd, the Hoboken Arts & Music Festival returns for the Fall season…One of the biggest events of the season with over 250 vendors and live performances all day long on two stages. The festival will be located on Washington St., from Observer Hwy. to 7th Street in Hoboken, NJ. Stop by and shop, eat, and enjoy the music!
---
5th Annual Hudson West Folk Festival
The 5th Annual Hudson West Folk Festival will be on Saturday, October 15th at the Nimbus Arts Center. Spend the day at this Americana, Folk, and Roots music festival where you can enjoy great music and delicious food. There will also be music workshops presented by the festival's performing guests.
Get your tickets soon!
---
The Ghost of Uncle Joe's
It's Halloween season and that means the return of an annual spooky favorite, The Ghost of Uncle Joe's. Hosted by the The Historic Jersey City and Harsimus Cemetery, this music festival and fundraiser is held on their grounds each year with local musicians dressing up and performing songs of famous bands. There will be delicious food, refreshing beer, and more!
---
JC Harvest Festival


The annual Jersey City Harvest Festival is the ultimate Fall season celebration! Enjoy seasonal activities like pumpkin painting, as well as live music and food vendors. This year, the Festival is combined with Annual Cultural Diversity Festival.
---
7th Annual Hudson County Fair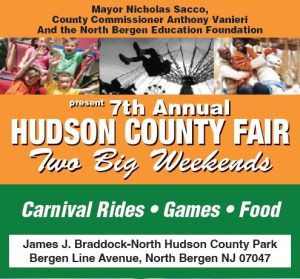 The much-anticipated Hudson County Fair returns to Braddock Park on Friday, Sept. 30 for an 11-day extended party. There will be tons of exciting carnival rides and attractions, games, live entertainment and plenty of delicious food.
---
Jersey City Art & Studio Tour
Now in its 32nd year, the historic Jersey City Art and Studio Tour (JCAST) is the largest arts event in New Jersey. This epic four-day gives an opportunity for local and regional artists to show off their talents to an estimated 100,000+ visitors.
---
Berta, Berta
Mile Square Theatre's newest production, "Berta, Berta" by Angelica Cheri, is now open and will run until October 16th.  The play is inspired by the prison chain gang song "Berta, Berta,"
---
Boo-niverse at American Dream
Visit American Dream's Nickolodeon Universe now through October 31 for BOO-niverse! Discover costumed characters, Halloween dance parties, spooky parades, and so much more.
---
Halloween Party at LSC
Explore the spooky side of science! Liberty Science Center is celebrating Halloween throughout the entire month of October. Make your way through the outdoor Spider-Maze,visit the giant indoor pumpkin patch, and much more.
---
Hoboken Pizza Fest
Join us for this year's Hoboken Pizza Fest (think bar crawl, but for PIZZA), so round up your crew, grab your family, and get ready to take a tour around Hoboken to sample pizza from some of the best spots in town?
---
Annual Bike & Car Show
The 6th Annual North Bergen Bike & Car Show is returns to Bergenline Avenue on Sunday, Oct. 9. The show will feature a huge variety of vintage vehicles, including meticulously restored antiques and iconic muscle cars.