Issue 24 | September 2022 |
Hudson County is full of fabulous art all year long but fall is an especially artistic time of year. From large, citywide festivals and studio tours to smaller exhibitions where you can watch artists create masterpieces right before your eyes, Hudson County is bursting with craft and creativity this fall.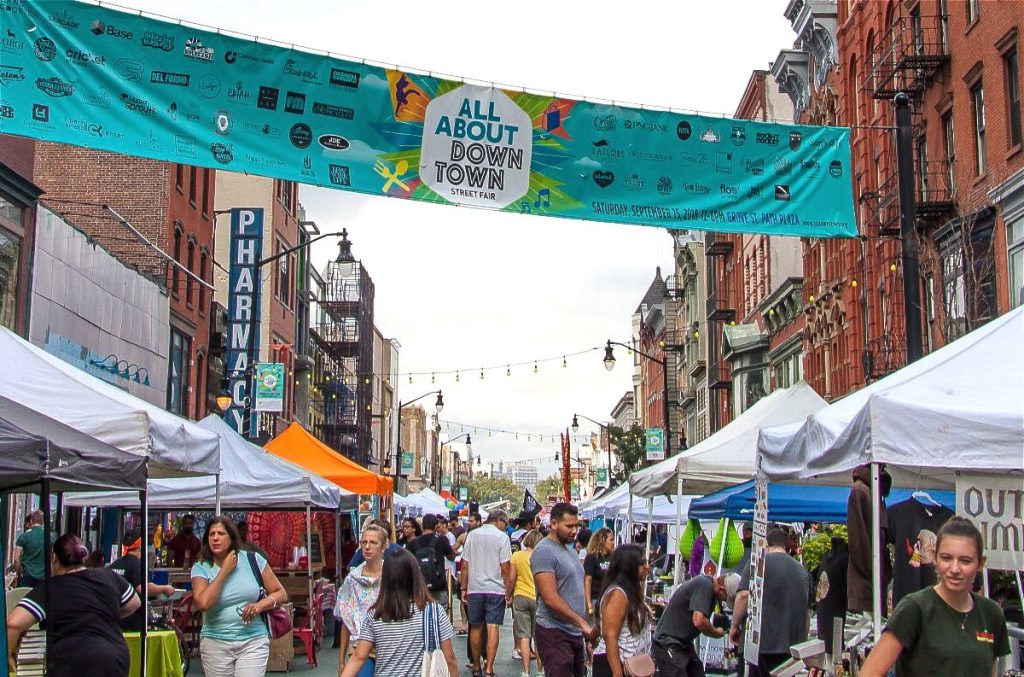 An autumn art-lovers guide to Hudson County
---
September 17th
All About Downtown Street Fair is a highly anticipated annual Jersey City fall festival that allures visitors with over 200 vendors selling local crafts and handmade jewelry, along with food trucks galore. The September event features a kids zone—perfect for family outings—plus live music and a festive beer garden. Enjoy the fun from 12-8 p.m. in Jersey City's charismatic Grove Street neighborhood.
Address: Newark Avenue between Grove Street and Coles Streets | Accessible via rideshare, car, but, or PATH train to Grove Street station.
Sept. 9 – 27
Whether you're a race car enthusiast or just a fan of great art, you'll appreciate the F1 Legends exhibit at Casa Colombo. This collection of unique pieces captures portraits of the pioneering race car pilots and their machines that wrote the history pages of this thrilling sport. While this exhibit (and its opening reception) launched during JC Fridays, you can catch it through September 27th so you have plenty of time to take it in.
September 29 –  October 2
The Jersey City Art and Studio Tour (JCAST), one of the largest in the area, returns for four days of fun the last weekend in September. In its 32nd year, this is the perfect event for friends, families, couples, or solo art appreciators looking for a unique, art-filled weekend. Review the JCAST map in advance so you can see as much as possible. From small sculpture studios and woodworking workshops to photography and painting exhibits and interactive art events, you're sure to find something you love. Spend the entire day (or several days) making your way through the studios, stopping here and there for live music and incredible food along the way.
October 1
On October 1, the grounds of Hamilton Park will be filled with fall energy as the JC Harvest Festival commences. This fan-favorite festival, from 10 a.m. – 2 p.m., will feature an assortment of experiences, including: pumpkin decorating, a bouncy house, and an arts & crafts workshop for adults and kids with local art studio Luna De Papel. Even better? The event is free to attend (although several activities, such as the bouncy house, do require a paid ticket).
Event address: Hamilton Park | Accessible via rideshare, car, bus, or Grove Street or Newport PATH Station
October 2
It's that time of year again! The Hoboken Arts and Music Festival, held each spring and autumn, returns this October with loads of art, music, food, and fun for the whole family (children's activities will include face painting, sand art, balloons, and more). Artists specializing in oil paintings, watercolors, acrylics, sculpture, mixed media, and photography will set up shop while live bands provide entertainment throughout the day.
Crafters will also be on hand to display and sell handmade pottery, metalwork, wood items, blown & fused glass, quilts, batik clothing, hand painted furniture, candles, jewelry, dried florals, soaps, lotions, household items made from recycled materials, and other unique handcrafted items.
Local restaurants will set up street cafes serving everything from Thai, Indian, and Greek to French, Mexican, Cajun, and Italian. Note the new location this year on Washington Street, between Observer Hwy and 7th Street.
November 11 – 13
The annual 14C Art Festival returns to Jersey City to showcase the work of hundreds of artists from New Jersey, New York, and around the world. As the non-profit Art Fair 14C's mission includes increasing opportunities for artists and expanding public access to fine art, the fair provides art lovers exposure to a wide variety of visual arts at all different price points and budgets.
Year-round
Located inside a former tobacco warehouse, Mana Contemporary is a one-of-a-kind collection of artist studios and exhibition spaces that offer first-hand access to a range of art making techniques. The Jersey City location serves as the gallery's flagship space, in addition to its other locations in Miami and Chicago. As this is an active work and studio space, the only way for the public to get a first-hand look inside is on a guided tour, which is held at 3pm each Tuesday-Friday. While the galleries are open year-round, you'll find special Mana-produced events at many of the fall art festivals around Hudson County.
Year-round
For year-round art, history, culture, and family fun, head over to the Hoboken Historical Museum. It's brand new exhibit "Unclassical: Contemporary Still Lifes by Deborah Pohl" was just unveiled on September 11th and features the work of a local Hoboken artist highlighting overlooked and often discarded relics of our everyday lives. The museum also offers visits with their artist in residence Saturdays at 12:30pm and children's art classes every Tuesday and Thursday at 10am.