Issue 23 | August 2022 |
Whether you're looking for tacos, pizza, donuts, or fried chicken, Hudson County's food trucks are calling your name. Food trucks make dining fun and fresh and sometimes, you just never know what you're going to find. Whether you're walking the waterfront in Hoboken or strolling around Grove Street in Jersey City, you're bound to run into one of the best food trucks in Hudson County.
A Guide to Hudson County Food Trucks
---
Hoboken
Like most food trucks, many of the food trucks in Hoboken bounce around from location to location in order to keep things fresh and satisfy as many hungry people as possible. You'll find the most food trucks parked near the Hoboken PATH station, along Washington Ave – the city's main drag, and scattered around the waterfront pedestrian path, particularly at Pier 13.
Not only is Pier 13 a fun and fabulous way to hang out in Hoboken – think music, murals, and stunning views of the Manhattan skyline – it's also a delicious way to spend the day. Check out Pier 13's food truck guide if you're hoping to catch a particular truck. Otherwise, just show up and eat because pretty much everything is amazing.
Amanda Bananas got their start serving ice cream from a pop up tent on the pier in 2012 and they can now be found there in their iconic, multi-colored "Banana Van" truck. They specialize in decadently-topped banana-based "fruit cream", which tastes just like ice cream but, somehow, has no dairy. While the Empanada Guy is a regular at Pier 13, you can also find them at fairs, festivals, and events around New Jersey. Wherever you find them, have enough room to sample a few of their savory empanadas (vegetable, Cuban pulled pork, and Mexican chorizo) along with one of their sweet apple cinnamon empanadas or churros.
Other Pier 13 regulars are Gringo's Tacos (think vegan burritos, hot chicken quesadillas, and Maine lobster tacos) and Pizza Vita, which serves wood-fired brick oven pizza. The Lomo Truck, specializes in Peruvian cuisine like lomo saltado, beef strips stir fried with onions, tomatoes, and French fries while Thai Elephant dishes up spicy (or mild) Thai noodles, rice, curries, and dumplings.
---
Jersey City
The word "Smorgasburg" is pretty much synonymous with food truck festivals in certain parts of the country. The weekend food truck festival that started in Williamsburg, Brooklyn in 2011 has since grown to become the largest weekly open-air food market in the country, with outposts in Brooklyn, Manhattan, Los Angeles, Miami, and, as of 2021, Jersey City. Every Saturday from 11-6, thousands of hungry eaters flock to Harborside Pl (at Hudson Street), alongside the Smorgasburg Beer Garden. Vendors rotate most weekends but expect to see about 30 food vendors each Saturday, offering everything from pastrami sandwiches, Mexican birria tacos, and duck wings to Chinese bao buns, Indian parathas, and vegan Puerto Rican bowls. Stroll through the aisles of food vendors to see what looks good or place your order in advance through Uber Eats and be notified when it's ready.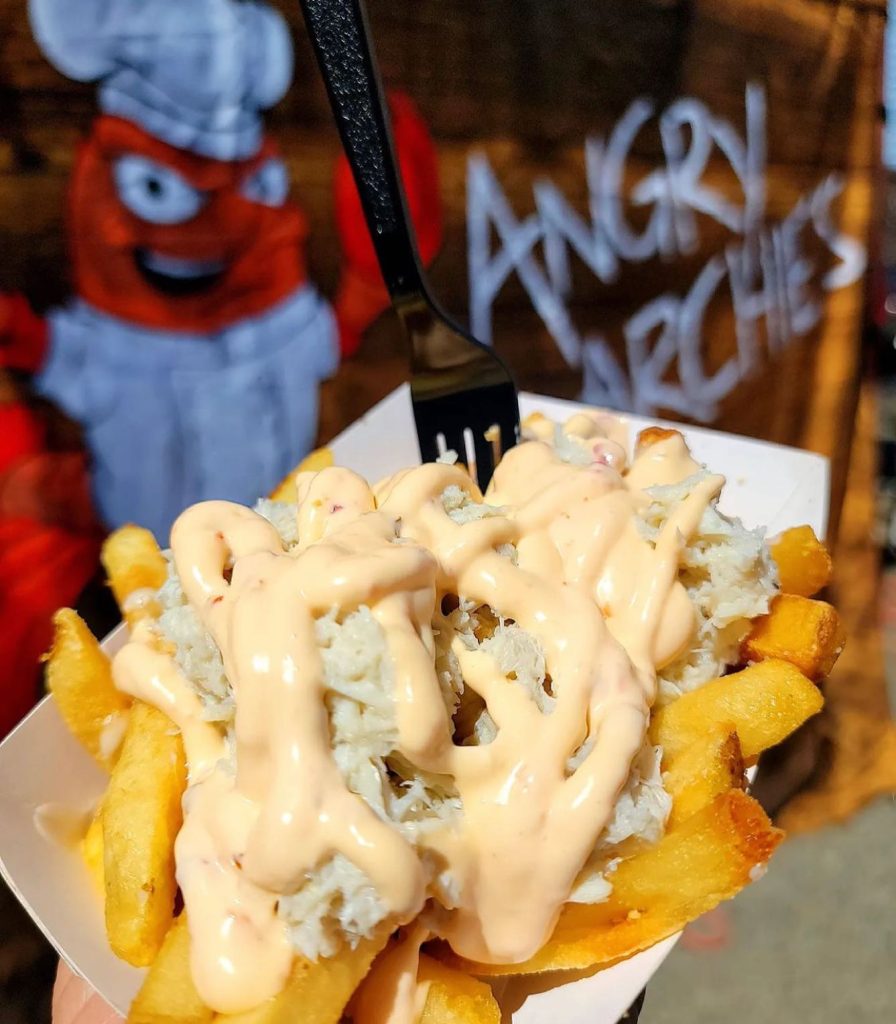 Weekday visitors would do well heading downtown to Jerkin Chicken Truck, which is serving up authentic jerk chicken and shrimp on Montgomery Street, near Exchange Place. Since the truck usually caters to the work day lunch crowd (and to Jamaicans that miss authentic food from the island), the truck only operates Monday through Thursday from 11am-3pm. Just down the block on Montgomery is the No Forks Given food truck, which specializes in "comfort food with a worldly twist" – think Korean fried chicken tacos and buttermilk fried chicken sandwiches. The food is fast, fresh, and so beautiful and brilliantly colored that eaters often post pictures of it on Instagram, in front of the nearby waterfront.
Essentially an Italian deli on wheels, the Venti Food Truck is (in their own words) "preserving the Italian-American deli tradition." They're satisfying the masses with homemade meatball parms and massive deli sandwiches, piled high with fresh cold cuts, thinly shaved onions, shredded lettuce, and tomatoes. Given how simple the ingredients are, it's surprising how flavorful the sandwiches can be. While they can be found parked all over Jersey City, like in front of the 235 Grand apartments, they sometimes deliver as far as Bayonne for special events.
---
Weehawken, Harrison and Union City
While Hoboken and Jersey City have the most food trucks in the area, you'll also find a handful of trucks parked near the Lincoln Harbor and Port Imperial ferry stations in Weehawken and near the Harrison PATH train in Harrison. Angry Archie's, for instance, operates multiple food trucks and pop-ups and can be found slinging crab cakes and lobster rolls in and around Hudson County on different days of the week. For example, you might find them at the Riverbend, Riverwalk, and Hamilton Cove in Weehawken on Tuesdays and Thursdays and outside Harrison Urby on Wednesday. Check their calendar to know when to satisfy your seafood sandwich fix. As for Union City, Torta Truck is a community favorite and the best place to satisfy that your birria craving, whether it's in the form of tacos, burritos and even ramen!