Issue 7 | April 2022 |
At Weehakwen's new EnVue hotel, "view" is more than a trendy name—it's a promise. The EnVue, located on Weehawken's dazzling Hudson River waterfront, offers unparalleled vistas across Manhattan's Upper West Side. Skyscrapers, water, and sunrises here are truly one of a kind, but scenery is far from the only thing this property, part of the Marriott Autograph Collection, has to offer.
The luxurious 208-room EnVue hotel, located at 550 Avenue at Port Imperial, is steps from the Port Imperial Ferry. With this NY Waterway access, you'll be on the ferry and into Midtown Manhattan in mere minutes—with a relaxing and scenic boat ride to get you there. Of course, with NYC views, a posh rooftop restaurant, and the adjacent pedestrian and bike-friendly Hudson River Waterfront Walkway, it may be hard to leave this Hudson County oasis.
Here are four reasons to consider a stay at the exciting new EnVue hotel
---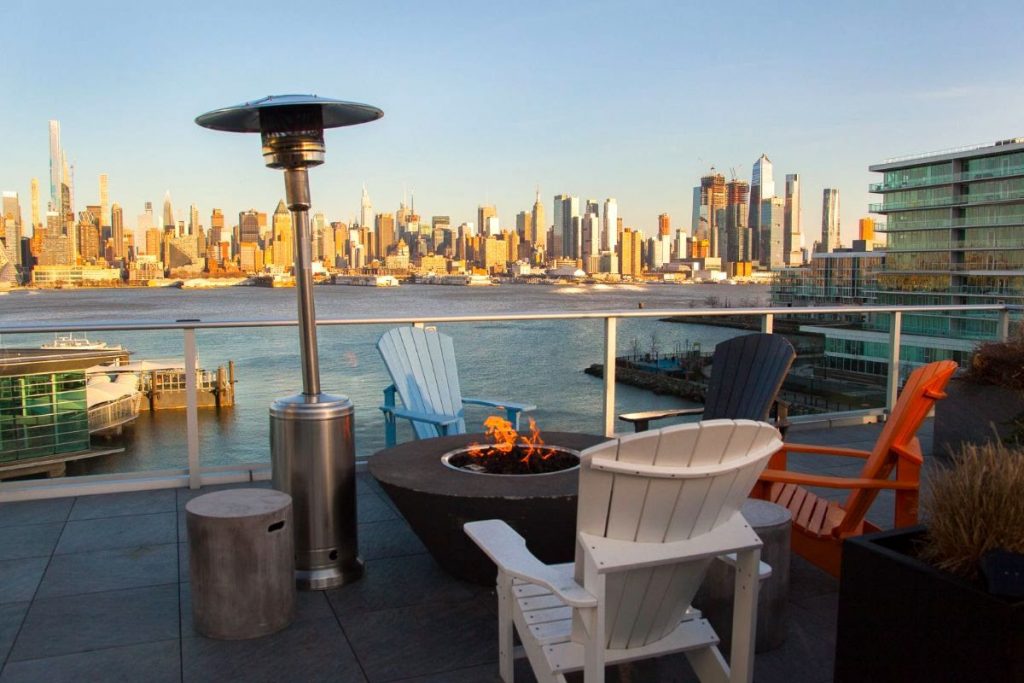 Sleek, upscale rooms with unparalleled NYC views
Life at the EnVue hotel is like staying with your hip and well-off NYC friend. The hotel "reflects the pulse of New York City with our own independent spirit," General Manager Matthes Metz said in a hotel press release. Nowhere is this vibrancy and trendiness more apparent than the guest rooms.
Each room boasts upscale furnishing, modern digs, and floor-to-ceiling windows for the best art of all: a jaw-dropping view of Manhattan. These rooms, which impress guests with spacious bathrooms and luxe bedding, promise a mix of relaxation and awe. Choose from a variety of room types, with city and river views, and, for an extra treat, balconies overlooking NYC.
The tasty and trendy Marcus at NoHu Rooftop Restaurant & Bar
Head up to the 15,000-square-foot Marcus at NoHu Rooftop on the sixth floor for a delicious, upscale meal and craft cocktails that pair perfectly with Weehawken's captivating Manhattan views.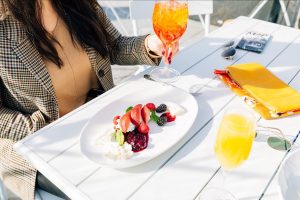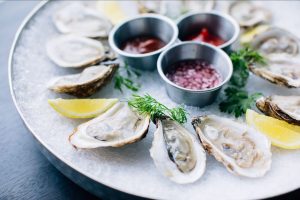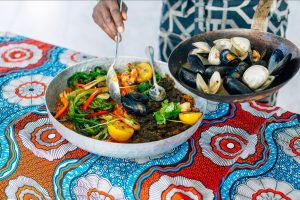 Here, NoHu's James Beard-winning Chef, TV personality, and cookbook author Marcus Samuelsson delivers an impeccable fusion of locally sourced fare with a seasonally inspired menu. Some of the latest menu highlights include seared scallops, oysters, Boston Bay jerk chicken, seafood jambalaya, and more.  To make a firepit, premium waterfront table, or bottle-service reservation, contact VIPreservations@envuehotel.com.
Convenient ferry access takes you to Midtown Manhattan within minutes
With no traffic, scenic views, and a connected bus system that takes you from the Midtown Manhattan terminal all over the city, the NY Waterway is one of the most seamless modes of Hudson County to Manhattan transportation. The EnVue is across the street from the spacious Weehawken/ Port Imperial ferry terminal.
From here, you can catch the ferry and head straight to Midtown (W. 39th Street), Pier 11 (Wall Street), and Brookfield Place Terminal. The ferry offers a free shuttle bus service from the Midtown Manhattan terminal. These buses follow popular Manhattan routes, including 57th Street (near Central Park), 42nd Street (near Times Square), 34th Street (near Penn Station and Madison Square Garden), and downtown for access to Chelsea, the West Village, and more.
Explore Weehawken's bustling—and growing—culinary scene
Just like Jersey City and Hoboken, Weehawken is full of can't-miss restaurants and bars, and many of them are a quick walk or ride from the EnVue. Try House of Que (500 Ave. at Port Imperial), a famed and laid-back Hudson County barbecue joint. Or, enjoy hip American fare and delicious desserts—not to mention a wide selection of brews, wines, and signature cocktails—at Porter, a new American gastropub just steps from the EnVue.
Other local favorites include Molos, a Greek waterfront restaurant with Manhattan views in Weehawken, and nearby Son Cubano, a West New York staple serving up Cuban fare, waterfront views, and, once nighttime hits, live music and dancing.
To learn more about the exciting adventures and bites that await here, check out our hand-curated Weehawken neighborhood guide.