Issue 29 | February 2023
When it comes to comfort and convenience, the Element by Westin Harrison – Newark can't be beat. As the hotel is situated in a lively neighborhood in Harrison, just across the water from Newark, and across the street from the Harrison PATH train, it's well-suited for business and leisure travelers alike, whether they are visiting Hudson County, Newark, or New York City, which is mere minutes away.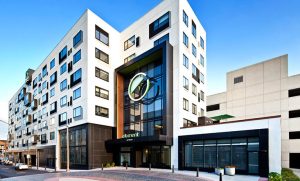 Excellent restaurants and bars are within walking distance (and found right within the hotel itself), as are major attractions like the Red Bull Arena, New Jersey Performing Arts Center, and the Prudential Center. The center of the Big Apple is only 25 minutes away by train and you can reach the middle or downtown Manhattan for only a $2.75 cent ride on the NJ PATH.
But convenience isn't the only allure of this apartment-style hotel; the Element Harrison – Newark offers sleek, spacious accommodations that are intuitively designed and equipped with modern conveniences that make the rooms feel more like home and less like a hotel. Whether you're planning a business trip to Newark or Hudson County or a sightseeing vacation to Manhattan, here's why the Element by Westin Harrison – Newark should be at the top of your list.
Inside the Element by Westin Harrison – Newark
---
Apartment-Style Accommodations
Instead of the generic paper cups and empty cabinets you find in most hotels these days, the Element by Westin Harrison – Newark has outfitted all of its rooms like fully furnished apartments. No more bland coffee in cheap Styrofoam cups or having to heat up leftovers in flimsy take-out containers that will disintegrate in the microwave; rooms here are fully stocked with glassware, silverware, dishes and china mugs, and even storage containers with sealable lids so you can enjoy a cup of morning joe or a plate of warm food the way they were meant to be enjoyed.
These spacious suites are designed with hardwood floors, large windows, and space-saving pull-out sofas and rotating TVs so that you can use them when you need them, then tuck them away when you want more room. Want to bring along man's best friend? The Element by Westin Harrison – Newark is a pet-friendly hotel so the entire family are able to enjoy it.

The hotel features 138 rooms across seven floors, ranging from guest rooms that are perfect for solo travelers and couples to one- and two-bedroom suites where families can spread out across separate rooms and stretch out on large sofas when they need some space. Rooms are generously appointed and with a large number of combinations (king bed plus a sofa bed; two queen beds; king bed, plus two queen beds and a sofa bed), so it's easy to find an arrangement that works perfectly for your family.
Business travelers and frequent travelers will appreciate how real china, generous workspaces, and ergonomic chairs make the space feel more like a studio apartment than the stuffy hotel rooms they tend to spend far too much time in. Families and budget-minded visitors will welcome the opportunity to stock the full-size fridge with groceries, which they can prepare with the apartments' ample counter space, toaster oven, and stovetop utilizing furnished pots and pans instead of having to rely on restaurants.
While the hotel is a convenient and comfortable option for quick stays, its full kitchens, 24/7 Motion Fitness Center, 24/7 guest washers and dryers, conference rooms, and multiple workspaces also make it extremely well-suited for extended stays.
---
Fun Amenities and Thoughtful Touches
Not only does the Element by Westin Harrison – Newark distinguish itself with its large, modern, and well-stocked rooms, but it stands out thanks to delightful touches it's incorporated across the hotel and throughout the hotel experience. Arriving on a chilly evening? Help yourself to a complimentary cup of hot cider or infused citrus water at the front desk. Working late into the night and need a kick? Head down to the lobby, where hot coffee, both decaf and regular, are waiting for you, alongside piping hot water and a generous selection of teas, an impressive 24-hours per day.

Looking to explore the area in a fun and exciting way? Borrow the adorable bike and lock that the hotel offers to guests at no additional charge. Need a wheelchair for yourself or someone in your party but don't want or aren't able to bring your own? The hotel thoughtfully has a wheelchair on hand that guests are able to use during their stay.
And while the apartment-style rooms are perfect for preparing your own meals and re-heating leftovers from nearby restaurants, you won't want to miss the complimentary breakfast, which goes above and beyond the usual hotel spread. Options change daily so you can look forward to something new every day, such as cage-free scrambled eggs, spinach quiche bites, avocado toast, pancakes, and a large Chobani yogurt buffet bar, complete with all the toppings.
---
Eco-Friendly Accents
From the reusable glass and china dishes in the apartments to the locally-sourced and sustainable choices on the breakfast buffet, the Element by Westin Harrison – Newark has prioritized eco-friendly options in a way that is not only good for the planet, but also beneficial to the travelers.
Roomy showers are equipped with large containers of shampoo, conditioner, and hand soap so you don't have to bother packing your own but won't have to worry about tossing the single-use plastic containers that most hotels are guilty of supplying. Toilets are also clearly label half flush and full-flush, which allows travelers to conserve gallons upon gallons of water in the bathroom.
---
Easy Transportation Access
Getting around is a breeze, as the Element by Westin Harrison – Newark is literally across the street from the fully accessible Harrison PATH station, which is ready to whisk you away to food- and fun-packed Jersey City and Hoboken or downtown Manhattan, which is only a 25-minute ride.
In town for a concert or sporting event? The Red Bull Arena is only a 10-minute walk from the hotel so you won't have to bother with any of the headaches typically associated with driving or paying for special event parking. The New Jersey Performing Arts Center in downtown Newark can be reached by PATH train by taking it one-stop to Newark Penn Station about a 5-minute ride, followed by a 10-minute walk. If you do need to get around by car, the hotel has an on-site parking garage or you can easily hail a Lyft or Uber to get where you need to go.
The Element by Westin Harrison – Newark is also located just 5 miles from Newark Airport (20 minutes by car or 30 minutes by PATH train) so you can spend less time in traffic, and more time enjoying your trip.