A Plant-based Guide to Hudson County
Whether it's Meatless Mondays, Salad Sundays, or somewhere in between, more and more diners are moving toward a more plant-based diet. Hudson County chefs and restauranteurs have taken note by adding new, fresh, and creative vegetarian and vegan dishes to their menu.
In fact, many of these meat-free meals or so good that even the staunchest omnivores won't miss the meat and will likely ask for seconds. From hearty burgers, craveable nachos, and super-stacked salad bowls to eclectic dishes from Peru, Puerto Rico, India, and Turkey, here is your guide to plant-based Hudson County.
---
Jersey City
VeganAF
291 Central Ave, Jersey City, NJ 07307
Jersey City is the epicenter of the state's vegan food scene and its restaurants could stand alone against any plant-based Manhattan eatery so why bother even crossing the Hudson? Take VeganAF, for example. Choose from vegan chorizo tacos, loaded tostones nachos, BBQ pulled-pork, and jalapeño-guacamole burgers that will stick to your ribs for days. This is also one of the few plant-based restaurants in New Jersey that has a full breakfast and brunch menu, including: triple-berry pancakes, scrambled tofu with vegan sausage, and breakfast mushroom quesadillas with home potatoes. Regardless of when you visit, you have the choice of washing it all down with homemade lemonade, smoothies, and even bubble tea.
Plant Base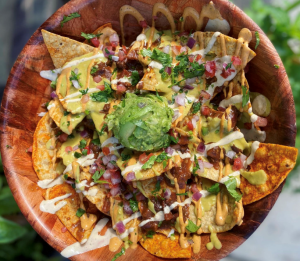 370 Pacific Ave, Jersey City, NJ 07304
Not only is Plant Base 100% meat- and dairy-free but they are also soy- and gluten-free so they're a great destination for diners with all sorts of allergies and food preferences. Instead of relying on processed "analog" meats and meat alternatives like many veg eateries, Plant Base opts for more natural and homemade entrees. A few examples to get you salivating are their buffalo chickpea and avocado wrap, their breaded lion's mane mushroom "chicken" and waffles, and their pulled king oyster mushroom and cashew mac and cheese bowl. In addition to being a restaurant and market, Plant Base is also a zero waste establishment and functions as a community center and non-profit dedicated to fighting food insecurity. They offer drum circles, sound healing workshops, holistic vendor markets, and community brunches in their garden.
Gaia & Loki
346 Grove St, Jersey City, NJ 07302
When you're in the mood for everything or you're with a group of picky eaters that can't decide on a single cuisine, you need to go to Gaia & Loki, where you'll find crowd-pleasing comfort classics like vegan meatball parmesan, gyros, and bacon burgers with onion rings. You'll also find some unexpected delights like beet tartare, lumpia (Filipino spring rolls), and an alfredo pasta with crispy enoki mushrooms that manages to be creamy and filling without being overly rich or fatty. Note that this is a BYOB restaurant but, conveniently, there's a liquor store next door that's more than happy to help you find a beverage pairing.
The Pet Shop
193 Newark Ave, Jersey City, NJ 07302
Whether you call it comfort food, bar food, or just plain good eating, The Pet Shop in Jersey City doesn't disappoint. Cauliflower "wings" come smothered in buffalo sauce and ranch dressing while vegan cheese burger croquets are made with polenta, caramelized onions, and vegan ground beef. Unexpected ingredients like braised pulled oats in Cuban "ropa vieja" and beer battered banana blossoms in vegan fish and chips mean that the food here is not just good – it's also unlike what you'll find in virtually every other plant-based establishment in town. Oh, and did we mention The Pet Shop is a bar? Not only is the grub good, but you can also wet your whistle with draft beers, wine, or a collection of house classic drinks made with flavorful fixings like rhubarb, lavender, lime, and Mezcal or vodka blended with strawberry, lemon, llilet rose, and cucumber.
Bayonne
House of Flavor
911 Broadway, Bayonne, NJ 07002
Bayonne's House of Flavor couldn't have picked a better name, as their organic juices, bowls, finger foods, and hand-held sandwiches are a treat to your taste buds. Health-conscious eaters may opt for a beet and avocado salad bowl or falafel sandwich, while junk food fanatics will fall in love with the crispy cauliflower hot wings, stuffed cheeseburgers, and nachos. As their diverse menu offers a bit of everything, you'll also find Dominican fried rice (a nod to the Dominican owner's heritage) and "chicken" parm sandwiches made with oyster mushrooms instead of birds.
West New York
Zoni Restaurant
5617 Bergenline Ave, West New York, NJ 07093
West New York darling, Zoni Restaurant, is a fully plant-based eatery with a shockingly large menu that just about guarantees you'll find something you like. While you'll find usual vegetarian staples like burgers, nachos, and salads but what really shines are Zoni's take on international favorites. Here, charred zucchini, eggplant, spiced tofu, and mushrooms stand in for the meat in dishes from Cuba (ropa vieja and picadillo), Puerto Rico (mofongo and sancocho) and Peru (lomo saltado, chaufa, and tacu tacu). Don't forget to scroll to the bottom of the menu, where you'll find an enticing list of drinks that combine alcohol-free spirits with coconut water, coconut milk, mandarin juice, and raspberries to create irresistible mocktails.
Harrison
Urban Tandoor
206 Harrison Ave, Jersey City, NJ 07029
In general, Indian restaurants tend to be some of the most veg-friendly options because India has such a huge number of vegetarians. As such, the culture has perfected plant-based dining so just about any Indian restaurant you go to is going to have a good selection of meals made fragrant and flavorful with herbs and spices instead of meat. Urban Tandoor in Harrison goes a step further beyond the usual curry and rice dishes by also having an Indo-Chinese menu, full of the Chinese-inspired Indian cuisine that's so popular on the subcontinent. Think fried vegetable Manchurian dumplings, Szechuan vegetable soup, Indo-Chinese fried rice, and hakka masala stir-fried vegetables with noodles. It may be your first time trying it but we know you'll be back.
Hoboken
Vegbar
464 Newark St., Hoboken, NJ 07030
Whatever you thought about vegan food in the past, you can just forget it because restaurants like Vegbar Plant-Based Kitchen are redefining cuisine. What started as a small pop-up at the Garden Street Farmer's Market is now one of the most sought-after vegan restaurants in Hudson County. This family-owned eatery and juice bar serves a mix of healthy offerings (think kale mango smoothies and black bean burritos with brown rice) and deeply satisfying comfort food. Their smokey cheddar bacon burger (all vegan, of course) and white chocolate-drizzled chocolate brownies are two popular pics that are sure to please.