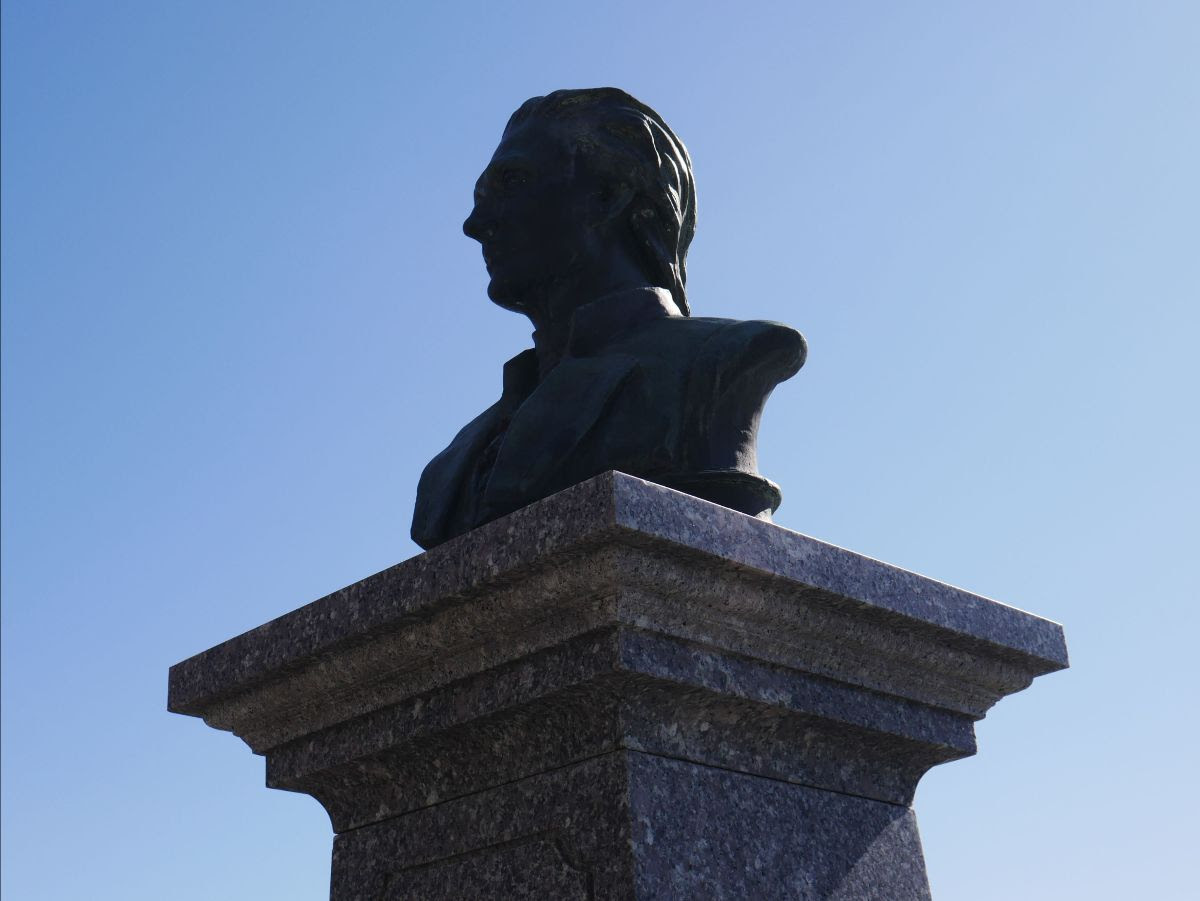 Between 1700 and 1884, at least 18 duels occurred along the Hudson River, below the cliffs of the New Jersey Palisades, at a site known as the Weehawken Dueling Grounds. In fact, the most famous duel in American history took place right here, on July 11, 1804. Here, Colonel Aaron Burr, shot General Alexander Hamilton, who was mortally wounded and died in New York City the following day. Tragically, Hamilton's son, Phillip, also met his death at this same site in a duel in 1801, leaving Hamilton's widow, Eliza Hamilton, all alone in 1804. If you've seen the hit musical, Hamilton, you know exactly what we're talking about, as the production reenacts this famous duel and shows Hamilton being rowed across the Hudson River to meet his eventual death.
The first monument made to commemorate the duel between Hamilton and Burr was erected on the dueling grounds in 1806 but by 1821, it had been disassembled and removed by souvenir hunters. In 1858, a road was cut right through the grounds and in 1870, a Weehawken shoreline reconfiguration completely obliterated the site in order to make way for new railroad tracks.
In 1894, a stone bust of Hamilton was erected at the site of the current monument but it was ruined by vandals in 1934. In 1935, a bronze statue of Hamilton was sculpted by artist, John Rapetti, which still stands here today. Behind the base of the bust is a boulder that folklore claims Hamilton rested on after being shot. While the boulder does have some historical significance as it is one of very few surviving physical connections to the original dueling grounds, it's unclear as to whether or not Hamilton actually rested on it.
For more information click here!
Next to the monument is a small park appropriately named Hamilton Park that is a great place to relax, unwind, and take in the fantastic view of the Manhattan skyline. Use the HC Self-Guided Skyline Tour of NYC to help identify your view from the park.
Directions:
To reach the site, take the NJ PATH to Hoboken Station, where you'll walk around the platform and catch the Hudson-Bergen Light Rail four stops north to Port Imperial Ferry. From there, it's about a 12-minute walk to the dueling grounds. If you like walking, consider making the 45-minute stroll from Hoboken along the stunning Hudson River waterfront to reach the site.
24 Hamilton Ave Weehawken, NJ 07086
The Weehawken Dueling Grounds is part of HC Urban Adventures a fun and free scavenger hunt!
Scavenger hunts are just about the best way to explore anywhere. They're fun, interesting, unique, and, in this case, free! The new Hudson Passport lets you explore Hudson County's history, culture, food, art, and oddities right from your smartphone. Sign up for free online, click the text link, and then add the Hudson County icon to your home screen. Though you can view all 30 locations from anywhere, you must physically be at each location to officially check-in. Visiting the sites and exploring the area is a great time, and if you accumulate enough check-in points, you can redeem them for prizes. Enjoy the view with waterfront dining after your adventure!
START HC URBAN ADVENTURES SCAVENGER HUNT