Issue 11 | August 2021 |
When it comes to Jersey City's Hyatt House, it's hard to pick a favorite feature. This sleek and upscale hotel—which feels more like trendy apartments than simple lodging—is steps from the Hudson River and a stone's throw from Liberty State Park and the Statue Cruises ferry to Ellis Island. Add the hotel's rooftop terrace overlooking lower Manhattan—chic firepits very much included—and it's hard to beat this Hudson County gem.
Meet the Hyatt House
5 Reasons Not to Miss the Sleek Jersey City Getaway
---
The RoofTop at Exchange Place boasts floor-to-ceiling city views
In case you didn't get enough views, the Hyatt House has another trick up its sleeve: the RoofTop at Exchange Place. This fan-favorite rooftop attraction, a 3,520-square-foot terrace enclosure with panoramic Manhattan-skyline scenery, is truly one of a kind. The RoofTop at Exchange Place has a retractable roof, ensuring guests can enjoy the city backdrop year-round, with floor-to-ceiling windows for optimal skyscraper gazing. Come for the views, stay for the cocktails and food—and stop to enjoy the impressive architecture, including the photogenic firepit center piece.
Can't-beat views of New York City
First things first: the Hyatt House's views of lower Manhattan are striking to say the least. The spacious rooms, with sleek and minimalistic digs, boast stellar vistas of the Hudson River and lower Manhattan. The posh-yet-cozy design makes it tough to leave your room—particularly since it feels more like an apartment than hotel—but trust us, a stroll along the nearby Hudson River Waterfront Walkway, accessible from the waterfront, is worth the trip outside. On this stint of the county's 18-mile pedestrian-friendly walkway, the One World Trade Center and lower-Manhattan skyscrapers tower above passersby. Catch the walkway here for a city-view stroll, jog, or bike ride (via CitiBike).
Don't forget the easy NYC access
If you're ready to not just admire the city, but jump into the heart of it, head over to Manhattan straight from the Hyatt House itself. The hotel sits just a building away from the Exchange Place PATH station, where you can easily catch the PATH Train over to either Midtown Manhattan or the World Trade Center. If you'd rather transit by water, stroll a few minutes up the Hudson River Waterfront Walkway to catch the ferry into Midtown Manhattan (West 39th Street) or Brookfield Place (near Battery Park) from the Harborside terminal.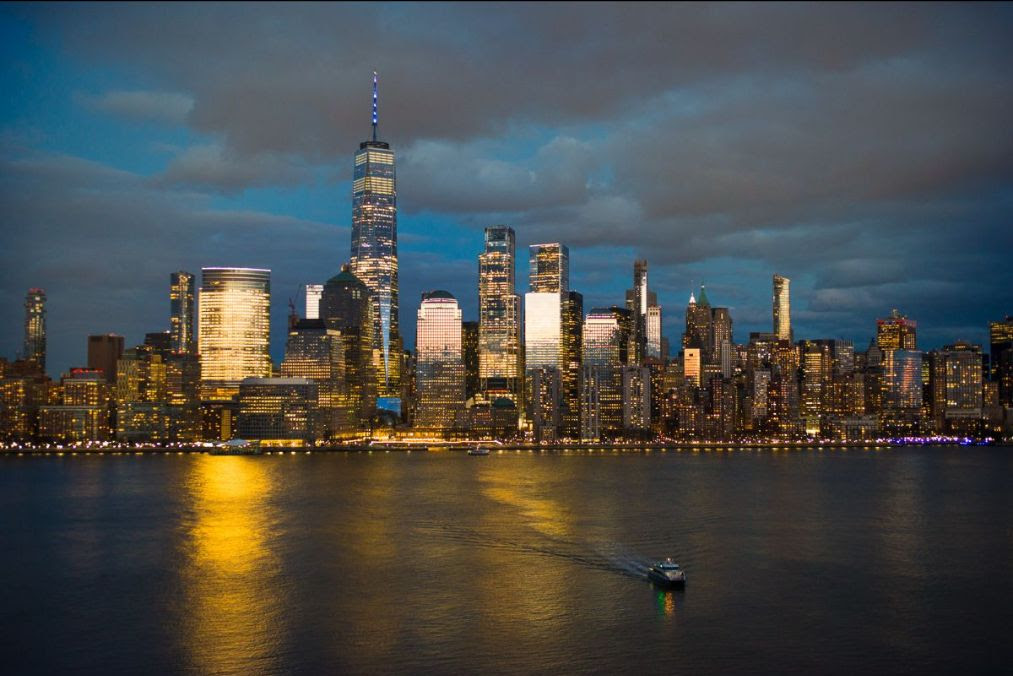 Enjoy Jersey City's bustling Exchange Place District
While NYC beckons with its colossal skyscrapers, Jersey City—especially the Hyatt House's Exchange Place neighborhood—are worth exploring, too. Here, you can enjoy the Mana Contemporary (four miles away) an innovative art hub with creative spaces, tours, and exhibits. Or, try Jersey City's array of top-notch dining, from upscale Italian at nearby Porto Leggero or modern sushi at Honshu, also a quick walk away. And, if you're making the trip to Liberty State Park, don't miss Liberty House, a posh restaurant with city vistas and farm-to-table fare.
See the Statue of Liberty and Ellis Island—without the crowds
The Hyatt House is a great resting place for NYC adventures, but it's particularly perfect for visiting the Statue of Liberty and Ellis Island. A 15-minute ride-share trip or 35-minute Hudson-Bergen Light Rail journey (via Exchange Place) will take you from the comfort of your Hyatt House digs out to Liberty State Park, where you can admire Lady Liberty, or catch one of Statue Cruises' boat rides out to visit Ellis Island and the Statue. These boat rides are operated by the same concessioner as the rides from lower Manhattan—but they attract a fraction of the crowds. That means you'll be on the boat and out on the water in no time, giving you more time to enjoy the rest of Jersey City's attractions.
Ready to book your room? We can't wait to see you! Make sure to check out our array of Hudson County Tiny Trip itineraries to make the most of your stay, too.