Issue 22 | July 2022 |
For families, Summer and Fall means more than beach and back-to-school—it's also the kick-off of countless kid-friendly attractions. Hudson County is packed with experiences to engage and inspire your children, with everything from painting and cooking classes to family-friendly festivals and food experiences. If you're looking for an excursion for the full family, here are Hudson County's Top 8 Family-Friendly Attractions.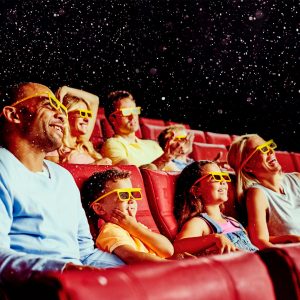 8 Family-Friendly Hudson County
Events & Activities You Can't Miss
---
Kid-Friendly Activities
1. Liberty Science Center
Few destinations engage kids like Liberty Science Center, a 300,000-square-foot museum with enrichment and immersion galore. The museum, located in scenic and statue-view Liberty State Park, features 110 species of live animals, simulcast surgeries, simulators to illustrate the wind speeds of hurricanes and tornadoes, a 3D theater, and the western hemisphere's largest planetarium. And, if that's not enough, special exhibitions this fall through winter include the new T-rex experience and a Dino Dig Adventure.
Address: 222 Jersey City Blvd., Jersey City | Accessible via rideshare, car, bus, or NJ Transit Light Rail to Liberty State Park stop
2. ArteVino Studio Hoboken
Wine-and-paint parties may be all the rage for adults, but at Hoboken's ArteVino Studio, there's room for kids to have fun, too. The studio offers kids parties—great for birthdays and playdates—for children ages 7 or older. The experience includes painting instructions, supplies, and artwork to take home and hang. ArteVino also offers kid-focused classes for kids ages 7 to 10 years old. In these experiences, kids can paint everything from superheroes to monsters and princesses. Parents can either stay throughout the class, or drop off then pick up their budding little artists.
Address: 720 Monroe St., Hoboken | Accessible via rideshare, car, bus, NJ Transit Light Rail Ninth Street/ Congress Street Station stop, or Hoboken PATH station (with one-mile walk)
3. Bambino Chef      CLOSED
This fall, help your aspiring young chef learn the ins and outs of baking goodies at Jersey City's Bambino Chef, a kid-friendly culinary experience. Bambino Chef teaches kids how to cook and bake through educational activities, with fall classes and camps, plus after-school enrichment programs centered on healthy and creative cooking. Bambino's virtual or in-person field trips also help kids from three to 15 years old learn how to bake and create their favorite fall dishes.
Address: 213 Newark Ave, Jersey City | Accessible via rideshare, car, bus, or Grove Street PATH station (.3 miles away)
4. American Dream
If The American Dream's been on your family's bucket list, there's no better time to visit. The destination's top kid-friendly attractions, including Nickelodeon Universe, Dreamworks Waterpark (yes, it's open year-round!), Mirror Maze, and Blacklight Mini Golf are ready to welcome little ones and their amusement-park-loving parents, with attractions for all ages. And, if snowy slopes are on your family's winter itinerary, get some fall runs in for practice at Big Snow, the country's first and only real-snow, indoor—and year-round—ski resort.
Address: 1 American Dream Way, East Rutherford | Accessible via rideshare, car, bus, NJ Transit Train to Secaucus (plus rideshare), and more (visit the American Dream website for multiple transit options)
5. Field Station: Dinosaurs
For young dino fans, it's hard to beat the Field Station: Dinosaurs in Hudson County's neighbor town, Leonia, where a cutting-edge dinosaur facility boasts education, entertainment, and thrills. More than 30 live shows, games, and activities fill the park. Come fall, seasonal events run the gamut, including the Super Stars of Science series with paleontologists (September 18) and the dedicated and hands-on Scout Day (October 9), with experiences for Brownies, Girl Scouts, Cub Scouts, and Boy Scouts.
Address: 3 Overpeck Park Driveway, Leonia | Accessible via car, rideshare, or bus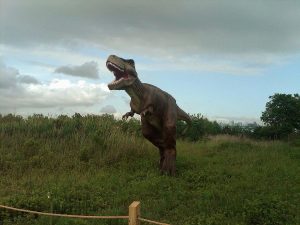 ---
Family-Friendly Festivals
6. Smorgasburg Jersey City: Saturdays through October
On Saturdays from spring through October, the new Smorgasburg brings delicious flavors and fun to Harborside JC (200 Greene Street)—and, with dozens of unique vendors, it's a great way to introduce kids to new cuisines. Vendor highlights include Bang Cookies, Knead Some Love, Crepe N Bake, Parish Po' Boys, Rosie's Empanadas, and more. Smorgasburg JC runs every Saturday from 11 a.m. – 6 p.m.
Address:  Harborside Pl. at Hudson, alongside Smorgasbar beer garden at 3 2nd St, Jersey City | Accessible via rideshare, car, bus, NY Waterway to Harborside ferry terminal, or NJ Transit Light Rail to the Harborside Light Rail Station
7. Bridge Art Festival, Bayonne: September 11
On September 11, arts and cultural performances will fill the Bayonne waterfront and Collins Park as part of the Bridge Arts Festival, with countless attractions to keep little ones entertained. Watch singers like social music group Conundrum, or gaze upon stilt-dancers with the Kaisokah Moko Jumbies U.S.A. Inc. Or, if your kids would rather get their hands dirty, participate in  one of the free activities in the kids-crafting corner. The event runs from 11 a.m. – 6:30 p.m.
Address: Collins Park, 1st Street, Bayonne | Accessible via rideshare, car, or bus; 22nd Street Light Rail is two miles away
8. JC Harvest Festival: October 2
To really get into the fall spirit, don't miss the JC Harvest Festival at Jersey City's City Hall on October 2. The event, which runs from 10 a.m. – 2 p.m., is packed with kid-friendly fall attractions: pumpkin decorating and arts & crafts workshops for kids and adults with local art studio Luna De Papel—with a bouncy house as the cherry on top.
Address: 280 Grove Street, Jersey City | Accessible via rideshare, car, bus, or Grove Street PATH Station (three blocks from the station)