Issue 19 | May 2022 |
Whether you're looking for fresh fare after a holiday season packed with sweets, or you love knowing where you're food comes from, you're in luck. As the Garden State, New Jersey brims with local farms—and few places serve Jersey-fresh fare as creatively and deliciously as foodie capital Hudson County. Our farm-to-table dining experiences don't just abound here; they come with extra perks, such as skyline views or world-class chefs.
If you're ready to enjoy Jersey-fresh food straight from the source, look no further. Here are the best restaurants to enjoy a farm-to-table meal in Hudson County.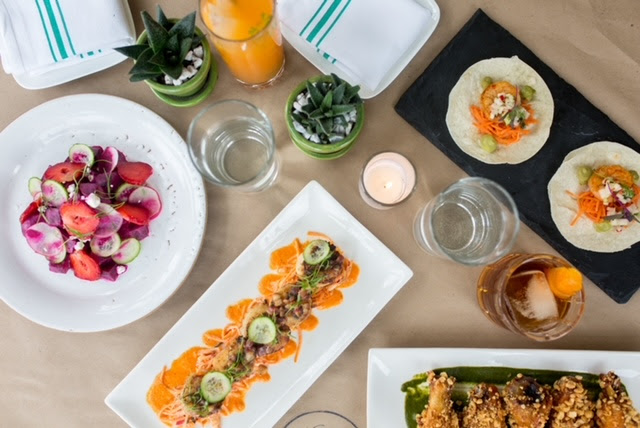 Farm-to-Table Dining in Hudson County
---
The Kitchen Step | Jersey City 
Known for modern-American cuisine in downtown Jersey City's trendy Van Vorst area, The Kitchen Step is a can't-beat stop for those seeking farm-to-table cuisine. Executive Chef Ryan DePersio carefully crafted a menu spotlighting the best fresh and seasonal ingredients—all inspired by local markets. Don't miss the creative craft cocktails from The Kitchen Step mixologist Ray Keane, too.
Liberty House Restaurant | Jersey City
The scenic Liberty House Restaurant is located in Jersey City's Liberty State Park, with panoramas of the Statue of Liberty and lower Manhattan—not to mention some of Hudson County's best farm-to-table meals. Executive Chef Ken Trickilo is a leader in this farm-fresh movement. The Liberty House sources ingredients from establishments like Dancing Goat Farm of Warren, New Jersey, and uses a hydroponic farm to ensure fresh ingredients in the off-season.
Razza Pizza Artigianale | Jersey City 
In culinary hub Jersey City, the farm-to-table movement extends to high-end handmade pizza. Razza Pizza Artigianale incorporates local ingredients at every level, from flour milled in Clifton, New Jersey, to their own homemade yeast culture—one of the many secrets behind their lauded artisanal pizza recipes. Chef and owner Dan Richer makes fresh, local ingredients a priority—and it pays off. He has been recognized by the James Beard Foundation as a rising star semi-finalist, and earned a spot on 50 Best's "Best Pizza in North America" list in 2019.
Fork Hill Kitchen | Union City 
Union City's casual new Fork Hill Kitchen restaurant is a small, intimate dining spot with fresh ingredients harvested as locally as possible. It's renowned for high-quality American fare with a relaxed, welcoming atmosphere—not to mention a stellar wine selection. Fork Hill Executive Chef Eric Clemente's modern menu spans brunch to dinner, with a roster of dishes that changes by the season, ensuring the ultimate in fresh, farm-to-table fare.
Halifax Restaurant | Hoboken
With a focus on northeastern farm and coastal cuisine, Halifax doesn't just offer farm-fresh meals—they're part of its DNA. Halifax, located at the W Hotel on the waterfront in Hoboken, sources its food from local farmers and fishermen, with Chef Seadon Shouse serving up everything from house-smoked meats to sea salt made straight out of Montauk. Just like its bites, the Halifax drink menu offers a variety of local spirits, ensuring patrons get the ultimate local dining experience.