Issue 4 | January 2021 |
A colossal Garden State attraction is open to the public: American Dream. This 3 million square foot experience center in East Rutherford, two miles from an array of hotels in Secaucus, is an exciting new entertainment and shopping experience. A curated collection of premier dining and retail stores, including flagship locations for H&M, Uniqlo and PRIMARK as well as Lululemon, Sephora, Aritzia, Zara and IT'SUGAR, the world's first "candy department store." American Dream is so much more than a shopping center.
American Dream is an immersive entertainment venue, thanks to attractions like the Nickelodeon Universe Theme Park and a DreamWorks Water Park. It's a snow-bird's paradise, with North America's first and only indoor, real-snow ski resort, Big SNOW American Dream, right in the heart of North Jersey. With a 300-foot city-view observation wheel coming soon, it's also among the best places to see the Big Apple. And that's hardly scratching the surface of this facility, which dedicates more than half of its square footage to entertainment.
Escape for a day at American Dream
---
Indoor Attractions
One of American Dream's biggest draws is the array of indoor attractions. With these unique and one-of-a-kind spacious attractions, there's always fun to be had. Here are some of the highlights: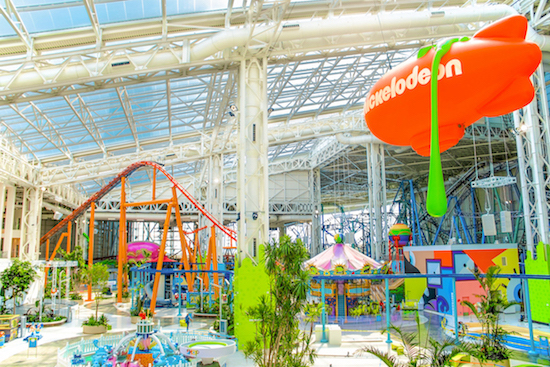 Nickelodeon Universe: Roller coasters, spin rides, and a ropes course are just
a few of this 8.5-acre theme park's Nickelodeon-themed attractions. The
Nickelodeon Universe park features thrilling rides, such as the Teenage Mutant
Ninja Turtle Shellraiser; this beast of a coaster climbs 141 feet before descending
at a record-breaking 121.5-degree angle. Other milder rides, like the Nickelodeon
Slime Streak and SpongeBob's Jellyfish Jam ensure Nickelodeon Universe offers
fun for the whole family.
DreamWorks Water Park: More than 40 water slides, rides and attractions will
entice visitors at DreamWorks Water Park. At the 1.5-acre PerfectSwell wave
pool, surfers can hang 10 before heading over to relax along the lazy river or at
one of the 31 luxury cabanas designed by Jonathan Adler. And, with the world's
tallest indoor body slide—which drops guests 142 feet—thrills are built into the
DNA of the DreamWorks Water Park.
COMING SOON: Legoland Discovery Center: LEGO enthusiasts will love this
American Dream attraction. The Legoland Discovery Center will feature a LEGOthemed ride, nearly a dozen LEGO build and play areas, as well as an immersive
4D cinema.
Sports and Snow
American Dream is breaking records with the vast array of athletic facilities, including the continent's first and only indoor ski resort with real snow. Here
are a handful of the sport-and-snow adventures you can enjoy at American Dream:
Big SNOW American Dream: The slopes at Big SNOW can hold up to 500
people at once, replicating that real-life ski or snowboard experience—right in
East Rutherford. Guests can rent ski and snowboard equipment onsite, with a
two-hour slope access ticket and complimentary lessons with instructors.
The Rink: And the cold-weather adventures don't stop there. American Dream's
NHL-regulation-size ice rink is also available for hockey and ice-skating, with
skate and helmet rentals onsite, too.
Out of This World Blacklight Mini Golf: This 18-hole experience pairs classic
mini golf with out-of-this-world blacklight and extra-terrestrial digs. Celebrate a
hole-in-one among alien landscapes, and perfect that swing with surreal
sculptures in the background. This is golf like you've never experienced it before!
Angry Birds Not So Mini Golf Club: Go for birdie (or even mighty eagle!) in this wacky
and fun Angry Birds 18-hole indoor course. Explore Bird Island and Eagle Island, with
twists and challenges along the way. Join the angriest avians in entertainment and
experience their world via this one-of-a-kind mini golf experience.
Dining
Whether coming to American Dream to shop, swim, ski, snowboard or skate, be sure to bring your appetite. Throughout American Dream, guests will find a wide range of food spots for a satisfying treat on the go, including Wetzel's Pretzels, Grisini Coffee shops, Cinnabon, Panda Bubble Tea, Real Fruit Bubble Tea, Red Mango and more. Here are some other dining locations now open at American Dream:
Best Pizza: Award-winning Best Pizza has opened its first New Jersey location
at American Dream. A Brooklyn mainstay, Best Pizza first opened its doors in
Williamsburg in 2010 by pizzaiolo and TV host, Frank Pinello.
Van Leeuwen: This New York based ice cream company opened its first New
Jersey location at American Dream. This bright yellow store was designed by
Carpenter and Mason. Van Leeuwen Ice Cream started out of a truck on the
streets of New York City in 2008 by Ben Van Leeuwen, Pete Van Leeuwen and
Laura O'Neill, who were on a mission to make good ice cream from good
ingredients that make you feel good.
Coca-Cola Eats food court: The food court features an expanded list of local
and international cuisine, including Charley's Philly Steaks, Kelly's Cajun Grill,
Latin Grill, Wendy's, PORA and Taco Bell. More locations will also be opening in
the future.
Immersive Entertainment
Whether it's the observation wheel or the ode to ocean critters at SEA LIFE Aquarium, American Dream offers immersive entertainment and educational experiences—all centered on one thing: fun! Here are a few entertainment must-dos:
COMING SOON: SEALIFE Aquarium New Jersey: American Dream goes
above and beyond with its SEA Life Aquarium. Each tank will include not just sea
critters, but landmarks that reflect the Big Apple. This aquarium will include 10
interactive exhibits, including critters like shrimp, starfish, seahorses, sharks, and
rays.
COMING SOON: Observation Wheel: On the 300-foot observation wheel,
guests can soar above shoppers and park-goers to capture one-of-a-kind views
of the Big Apple.
To keep guests, Team Members, brand partners and the community safe and healthy, American Dream has been in close coordination with multiple
consultants, State and Local government officials, design professionals, engineers and their health care partner, Hackensack Meridian Health. They have
prepared an extensive COVID-19 Health & Safety plan that includes but is not limited to: physical distancing, reduced capacity, frequent hand sanitizing, face coverings, proactive communication and enhanced cleaning. For more information, visit americandream.com/dreamsafe.