A Three-Day Group Travel Itinerary to Liberty State Park
There's something for everyone at Liberty State Park—and we have the perfect three-day itinerary for you to soak it up. This itinerary to Liberty State Park and beyond is great for both groups and individuals. Come for the history, stay for the sights, and don't be surprised when you're tempted to make a second trip!

DAY ONE: STATUE OF LIBERTY & ELLIS ISLAND
Begin your group trip with the crown jewel of the Hudson County area: the Statue of Liberty and Ellis Island! While this can be done in a half day, we recommend giving yourself some extra time to admire the wondrous Lady Liberty, or to research your family history at Ellis Island. Here's what you need to know: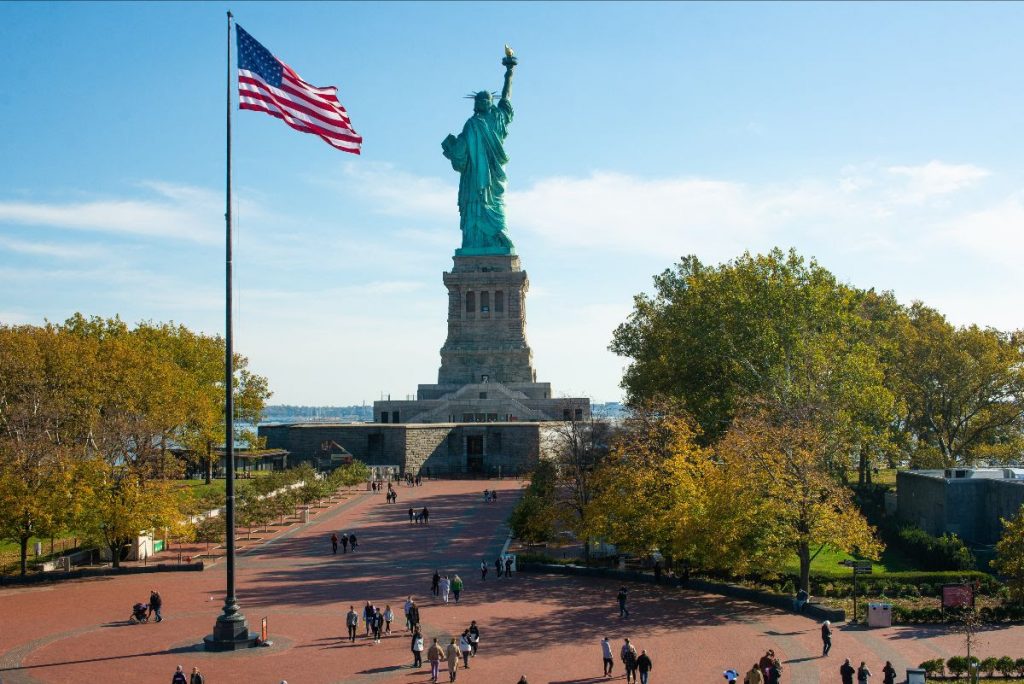 Statue of Liberty and Liberty Island 
Statue of Liberty and Ellis Island access is only available via Statue Cruises. Group ticket reservations are required, especially for those hoping to do a pedestal tour of the Statute of Liberty. (Note, the Crown is not open to visitors at this time, but availability is subject to change.) While Lady Liberty is, of course, the star of Liberty Island, you'll also want to stop by the island's Museum, which tells the story of the statue's journey to America and houses the original torch.
Ellis Island
From Liberty Island, the ferry will take you to Ellis Island, where your group can explore the place where 12 million immigrants took their first steps on American soil. In the Immigration Museum, visitors can see historical artifacts or head to the American Family Immigration History Center to look up relatives with help from trained historians. It's a moving experience that truly grounds you in America's history.
Unwind at Liberty House
For the ultimate New Jersey dining experience, look no further than Liberty House, a scenic and posh restaurant overlooking the lower Manhattan skyline. It's also the perfect sunset end to your day at Hudson County's famed park. Here, you can enjoy views and delicious food, including an award-winning menu with fresh and seasonal farm-to-table fare.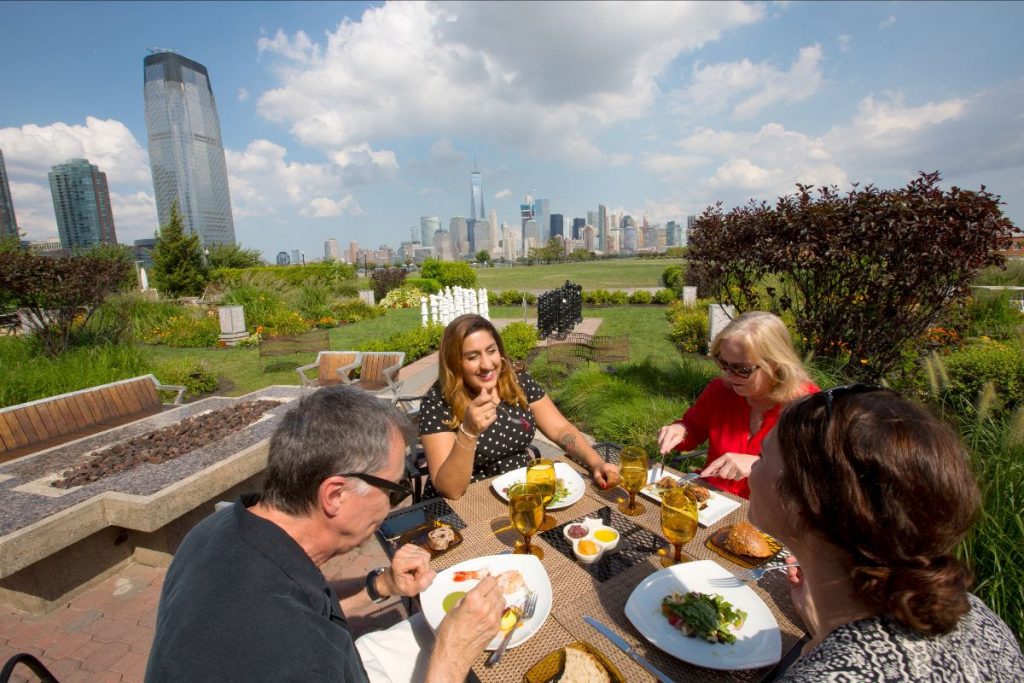 DAY TWO: LIBERTY STATE PARK
Now that you've seen two of America's top bucket-list attractions, it's time to go deeper with one of our favorite, and most historic, Hudson County greenspaces: Liberty State Park. But first, let's kick things off with a Jersey City brunch stop.
Brunch, Jersey City Style
Grab a bite before your big Liberty State Park day at a local favorite like Amelia's Bistro, located just two miles from the park. Amelia's offers spaces for private parties, with a brunch menu that ranges from avocado toast and shrimp & grits to lobster hash & eggs. Another nearby option is Buddy's JC, known for its delicious cereal-stuffed pancakes.
Historic Central Railroad of New Jersey
Start your Liberty State Park day with a self-guided walk through the CRRNJ. This is where new immigrants, who'd just come through Ellis Island, continued on to their new homes across the U.S.
Empty Sky Memorial
The Empty Sky Memorial is an important and moving must-see stop for any Liberty State Park visit. Take a moment to reflect at this simple-yet-powerful memorial, which was designed to commemorate the more than 700 New Jersey residents lost during the 9/11 tragedy.
Liberty Walk Promenade
Conclude the day with a scenic and serene stroll along the one-mile Liberty Walk promenade. Here, you can see the best of Hudson County's views, including sweeping vistas of the Manhattan skyline, plus the Statue of Liberty and Ellis Island. It's by far one of the best views not just in the county, but the region.
Enjoy Local Dining
End your day with another group-friendly Jersey City favorite just beyond the park like Porta, a lively hangout known for delicious Neapolitan pizzas. Other local group dinner options include Mediterranean restaurant Satis Bistro and hip American-fare hangout Left Bank Burger Bar.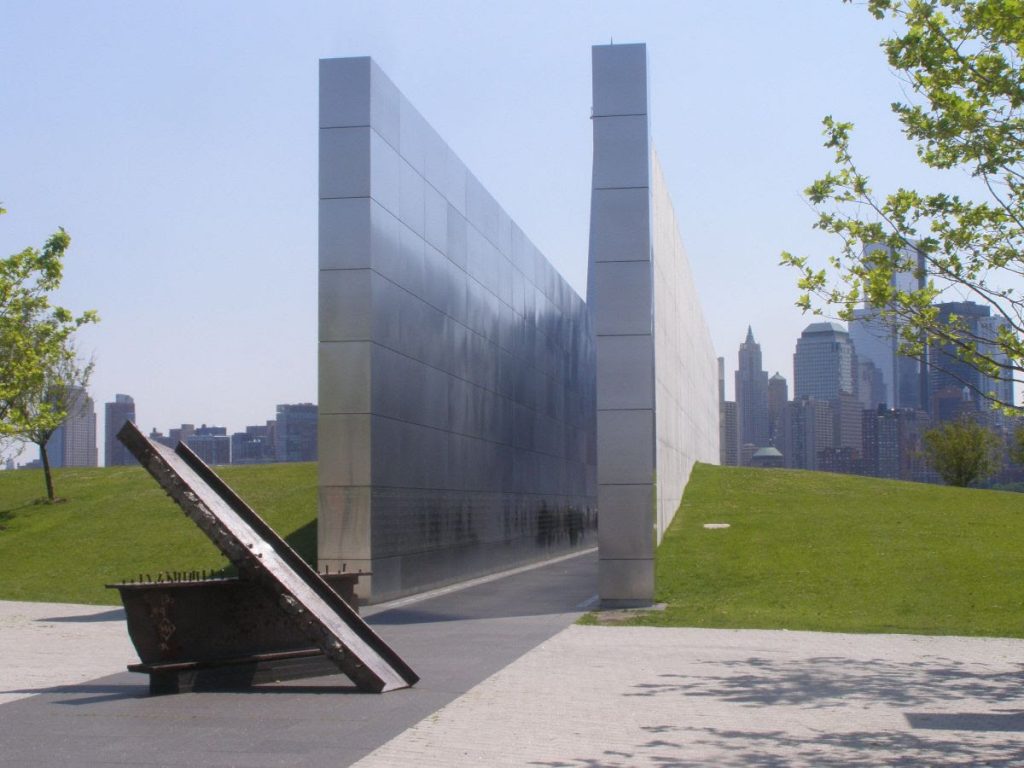 DAY THREE: HISTORIC HUDSON COUNTY
Spend your last Hudson County morning exploring Jersey City's most historic neighborhoods, with a quick bite and a add-on shopping trip before your visit ends.
Explore Journal Square
Head deep into historic Hudson County over in the Journal Square neighborhood, a destination with everything from the stunning William J. Brennan Courthouse to a 14-foot statue of the famed Jackie Robinson. While this neighborhood promises history, it's also a destination for dessert fans—with Monteleone's Bakery and Philippine Bread House guaranteeing you won't leave Jersey City hungry.
Visit Downtown Jersey City
See one more side of Hudson County before you head out: downtown  Jersey City. This jam-packed destination boasts beautiful historical parks like Van Vorst Park and Hamilton Park. Don't miss Newark Ave Pedestrian Plaza and Grove Street, one of the county's most happening thoroughfares, with food options like Madame Claude Bis (French fare), or, depending on the time of day, New Jersey's famous bagels at Wonder Bagels.
Hit the Shops
Go shopping! Hudson County doesn't disappoint when it comes to shopping, from the new American Dream in East Rutherford (just north) to Hudson County's many local markets, with many in Jersey City! Visit www.visithudson.org for all sorts of shopping inspiration.
WHERE TO STAY
We have dozens of options for accommodations on your Jersey City group getaway. Try the Exchange Place Hyatt Regency on the Jersey City waterfront for stunning vistas. Or, for great bang-for-your-buck try the DoubleTree by Hilton Hotels & Suites,  which is a bit further north. For more local hotel options to inspire your planning, explore www.visithudson.org!