Voices International Theatre Festival is back
to Jersey City, June 15-24, 2022
As Jersey City distributes the very first grants to local arts organizations and artists, JCTC kicks off its summer season in June with its free to the public 2022 VOICES International Theater Festival, which is dedicated to Ukrainians who are fighting for their  independence on a daily basis. Amid a current climate of global unrest, cultural discrimination, and societal despair, theatre artists from Ukraine, Uzbekistan, Israel, Poland, Hungary, Slovakia, and the United States have assembled their work to build bridges among countries in honor of the embattled nation.
 Olga Gavrylyuk of National Academic Theater of Lesya Ukrainka (Kiev, Ukraine)  wrote to me: "During these tragic times of war here in Ukraine, we did not stop producing. The war has united us. Creativity became a manifestation of our resistance. It has strengthened our spirit and faith in victory! People go to the theater to rest for a while from the horrors of war, air raids, and shell explosions! We make new work with new inspiration, which is connected with the responsibility for our dignity, life, and national spirit!  People and artists from different cultural fields strive for unity, so theatre actors and musicians have created this joint project that we be presenting to you online for now.  Great Ukrainian poetry is the most valuable heritage of our culture. During these tragic times, it inspires and leads us to awareness of the realities of life. In the combination of music and words, our soul strives to manifest the will to live! Therefore, we will freeze at this moment to become more spiritual and strong!"
All the money go to support the Ukrainian Army..  Some artists haven't get paid since the beginning of the war,  but they continue inspire, give hope and unite through the arts…
Join us for the festival that bring hope of  cultural acceptance, dialogue and peace on its wings.
---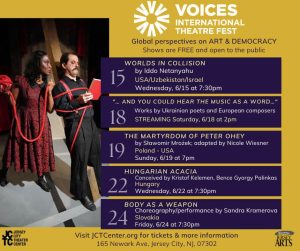 TEATRE ( Russian / English Subtitles)
Worlds of Collision by Iddo Netanyahu
Presented by ESSENCE Theatre-Studio
June 15 at 7:30 PM (Uzbekistan/Israel/USA)
THEATRE / MUSIC (Ukrainian / English Subtitles)
…And You Could Hear The Music As a Word… by National Academic Lesya Ukrainka Theater in collaboration with Kyiv Municipal Academy of Music directed by Olga Gavrylyuk
June 18 at 2:00 PM  ONLINE (Ukraine) 
THEATRE (English)
Trap Door Theater, The Martyrdom of Peter Ohey
June 19 at 7:30 PM (Poland/USA)
THEATRE / MULTIMEDIA (Hungarian / English Subtitles)
Hungarian Acacia by Kristof Kelemen, Bence Gyorgy Palinkas
June 22  at 7:30 PM (Hungary) 
DANCE
Body as a Weapon by Sandra Kramerova
June 24 PM at 7:30 ( Slovakia )
Tickets:  www.jctcenter.org