Have an event coming up? We'd love to share it!
White Eagle Hall presents A Comedy Present to Jersey City
December 21, 2022 @ 7:00 pm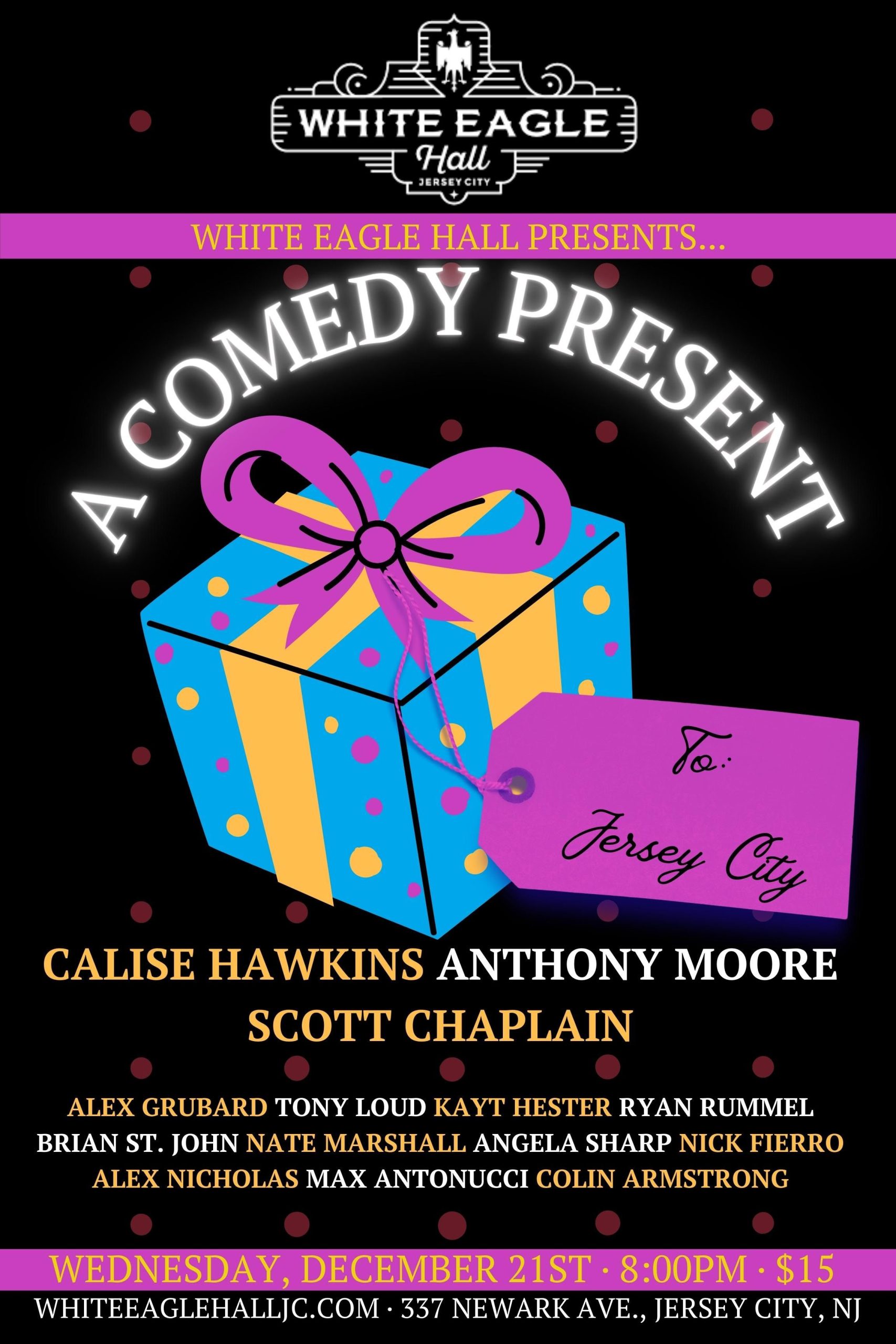 White Eagle Hall presents A Comedy Present for Jersey City. The Jersey City comedy scene is thriving and it's time to stand-up on Chilltown's grandest stage. Enjoy as many Jersey City comedians as we could fit in a gift box!
CALISE HAWKINS – Calise Hawkins is a writer for HBO's That Damn Michael Che and has performed stand-up on Late Night with Jimmy Fallon and Comedy Central's Stand-Up At The El Rey. She has been featured at Montreal's Just For Laughs Comedy Festival and her debut stand-up album '40 AF' was released in 2020 on the label Blond Medicine.
ANTHONY MOORE – Anthony has appeared on Comedy Central's Hart of the City, HBO's LOL Network and been invited to Montreal's Just For Laughs Comedy Festival. He can been seen regularly at the Comedy Cellar, The Stand and Brooklyn Comedy Club in New York City.
SCOTT CHAPLAIN – Scott Chaplain has performed on Comedy Central's Roast Battle 2, MTV, TruTV and at Skankfest Las Vegas. He is co-host of the podcasts Out For Smokes and Wrestleroasts and has been a guest on popular podcasts such as Are You Garbage and Real Ass Podcast.
ALEX GRUBARD – Grubard hosts stand-up shows at Pet Shop and Corgi Spirits and is creator of Weeding Out The Stoned. He's appeared on Comedy Central, mtvU and at the New York Comedy Festival. His comedy album 'Let Me Teach You How To Distill Gin,' released on Helium Comedy Records in 2021, is played on SiriusXM.
MAX ANTONUCCI – Max Antonucci has written for Comedy Central's Roast of Alex Baldwin, performed at New York Comedy Festival, Jersey City Comedy Festival and Times Square Storytelling Festival. He is a regular at New York Comedy Club and is co-host of the comedy storytelling show Tall Tales every month at Fox & Crow.
ANGELA SHARP – Angela Sharp a musical comedian and creator of Porno Comedy Series and the web series SIlly People, Dirty Movies. He latest EP is called Pornyography and she has performed stand-up at Broadway Comedy Club, Stand-Up NY and Comic Strip Live in New York City.
COLIN ARMSTRONG – Co-creator of viral TikTok sketch group DimBoopers, Colin Armstrong is the host of comedy nights at Franklin Social in Jersey City and The Vanguard in Harrison. He has been featured in the Garden State Comedy Festival and is set to appear in the comedy TV pilot Wise Guys.
NATE MARSHALL – Nate Marshall is a co-host of popular podcast PITM and has appeared on Skeptic Tank and Matt & Shane's Secret Podcast. He is co-host of the monthly stand-up show at Pet Shop, been featured at Skankfest Las Vegas and tours the country opening for Shane Gillis.
NICK FIERRO – In 2022 Nick Fierro has been opening for Chris Gethard around the country and is a writer for Inked Magazine. He was a writer, performer and producer for WFMU's Prove It All Night and has appeared at Toronto Sketchfest, Jersey City Comedy Festival and Garden State Comedy Festival.
KAYT HESTER – Kayt Hester is host of stand-up shows at 313 Gallery and was named Best of the Fest in the 2020 Jersey City Comedy Festival. She has also appeared in the Boston Comedy Festival, Concouse Comedy Festival and NY Underground Comedy Festival, and has done visual artwork for the band The Pixies.
ALEX NICHOLAS – Alex Nicholas co-hosts the stand-up showcase at Nucky's and is a regular at The Stress Factory Comedy Club in New Brunswick where he has worked with Gilbert Gottfriend, Tone Bell and Greg Fitzsimmons. He has been written about in Shout Out LA, Voyage LA Magazine and NJ.com.
TONY LOUD – Tony Loud is the host of The Jersey City Comedy Jam at 902 Brewing and has been featured in Chicago's World Comedy Expo and NJ 420 Expo. He has performed at Comic Strip Live and Caroline's on Broadway in New York City and is a regular performer at Brightside Tavern.
RYAN RUMMEL – Ryan Rummel hosts shows at Corgi Spirits and Deep Space Gallery. He has been featured at the Portland Comedy Festival, Bananas Comedy Club and has opened for headliners including Jessica Kirson, Mark Normand and Liz Miele.
BRIAN ST. JOHN – Brian St. John is a co-host of the stand-up show S.T.F.U. at Nucky's and is a regular at New Brunswick's Stress Factory Comedy Club where he has opend for Jeff Dye, Chris Redd and Tim Dillon.
*Line-up subject to change