Have an event coming up? We'd love to share it!
The Two Roses: Rose Schneiderman and the Triangle Fire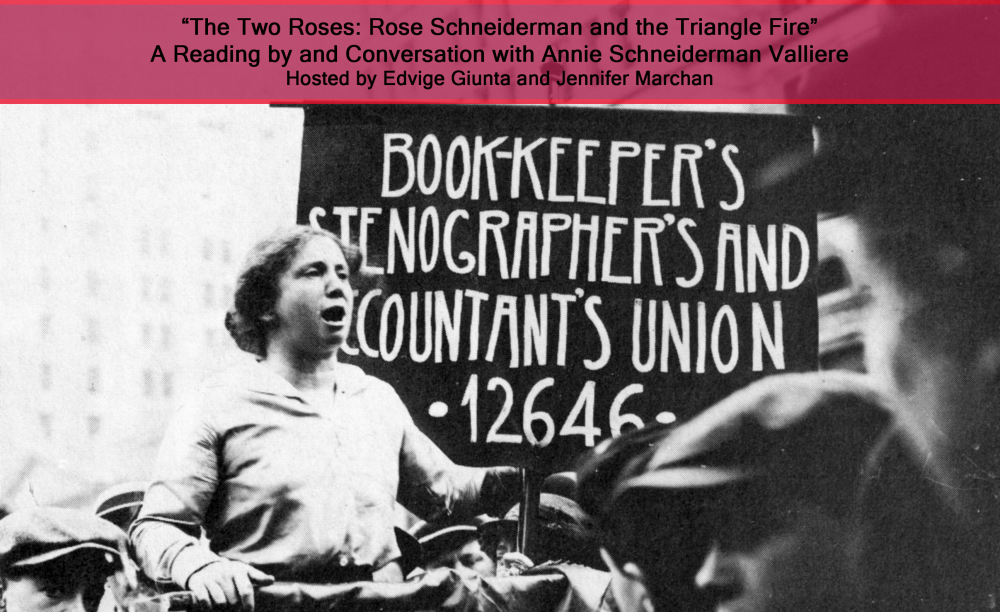 Annie Schneiderman Valliere, born in Washington, D.C., is a Maine-based retired social worker and a great-niece of Rose Schneiderman. She has spent more than a decade researching and writing a biography of Rose. Annie was awarded the Eichleberger-Linzer Grant from the Franklin D. Roosevelt Presidential Library in Hyde Park, New York. She has traveled from Maine to Washington—including a visit to the Roosevelt House in New York—to deliver captivating, multi-media talks on Rose and the Triangle Fire, including presentations about Rose at the conference "Frances Perkins and Progressive and New Deal Eras" in 2009 at the University of Southern Maine and at the 2019 Maine Suffrage Centennial. In 2021, she presented Rose and the Triangle Fire, at a meeting of Local One of the International Alliance of Theatrical Stage Employees (IATSE). In 2022, she spoke at Vassar College along with descendants of Harriet Stanton Blatch and Inez Milholland Boissevaine, at a dedication of a historical marker commemorating the "Suffrage in the cemetery" rally in 1908, as a part of the National Votes for Women Trail. She has written articles on Schneiderman, the Uprising of the 20,000, and the Triangle fire for the Oxford Encyclopedia of American Business, Labor, and Economic History (2013). In 2015, she published the article "Rose Schneiderman" on her great-aunt's suffrage activism for the Turning Point Suffragist Memorial Association.
Zoom Meeting Link
https://NJCU.zoom.us/j/92605348826?pwd=VG1DQTBCZEhOY2hURndEZTl4a20ydz09
Meeting ID: 926 0534 8826
Passcode: 20875196