Have an event coming up? We'd love to share it!
Please submit events one month in advance to be considered
for the HC Shows & Goes Event Newsletter.
The Hoboken Spaghetti Dinner Block Party
August 30, 2022 @ 5:00 pm

-

8:00 pm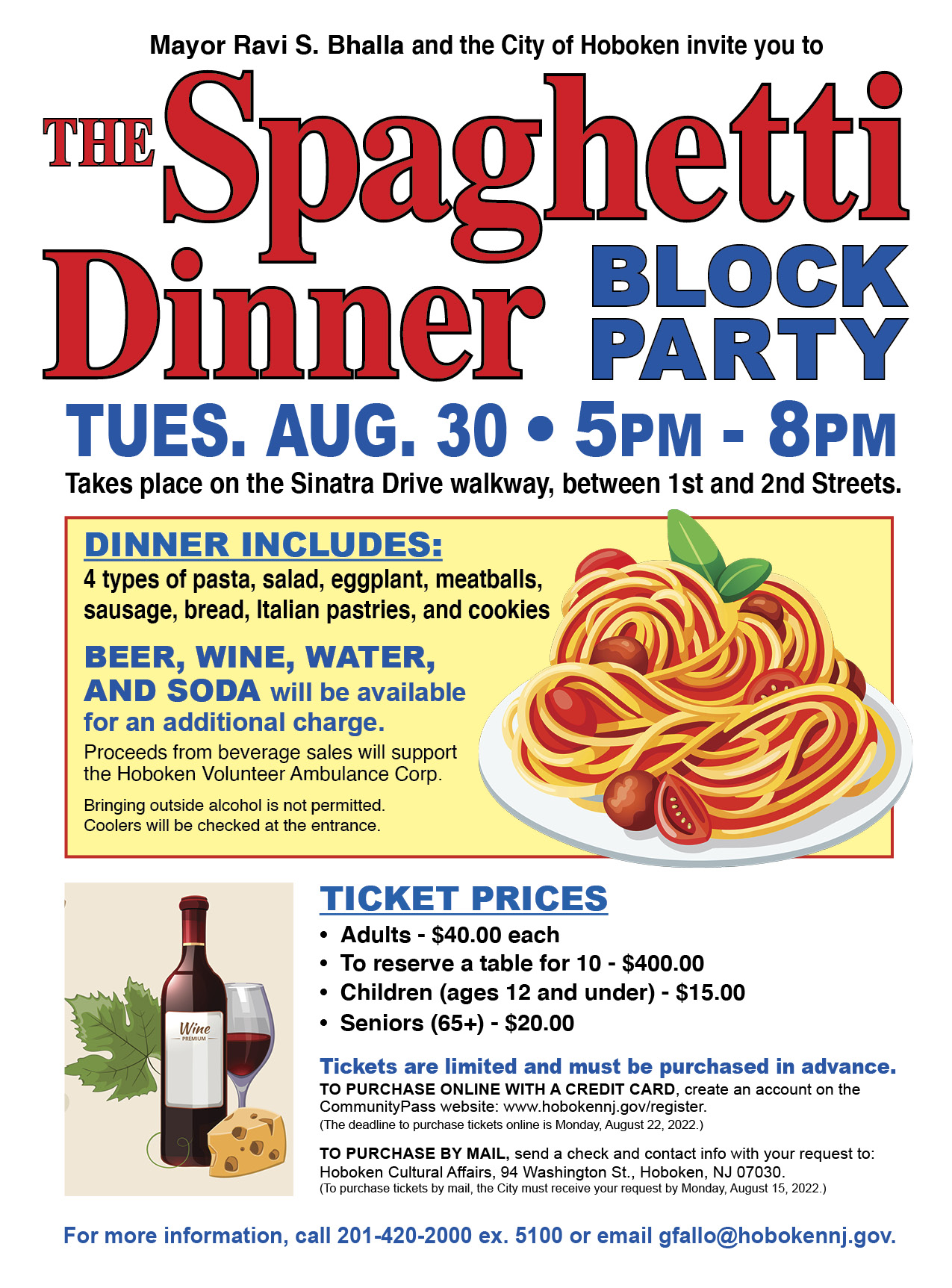 Hoboken Spaghetti Dinner Block Party
Tuesday, Aug. 30th, 2022 from 5:00pm to 8:00pm
The event takes place along the Sinatra Drive waterfront walkway between 1st and 2nd Streets and is located 2 blocks
from all public transportation: PATH, NY Waterway Ferries, NJ Transit trains and buses, and the Hudson Bergen Lightrail.
Individual Tickets are $40 for adults; $15 for children ages 12 and under, and $20 for seniors (65+).
Cost to reserve a table for 10 people is $400.00.  
Tickets are limited and must be purchased in advance.
No tickets will be sold at the door on the night of the event.
Tickets can be purchased online with a credit card by creating an account on our Communitypass website: www.hobokennj.gov/register.
Deadline is Monday, August 22, 2022. To purchase tickets by mail, send a check or money order, payable to City of Hoboken to:
Hoboken Cultural Affairs Office, 94 Washington St., Hoboken, NJ 07030. Be sure to include your address, phone, email and the amount and type of tickets you want.
To purchase tickets by mail, we must receive your request by August 15th, 2022.
The event will be catered by The Brownstone and includes: 4 kinds of pasta, meatballs, sausage, eggplant parmigiana, salad, bread, and Italian pastries.
Wine, beer, water, and soda will be available at additional cost. Proceeds from beverage sales will support  the Hoboken Volunteer Ambulance Corp.
Bringing your own alcohol is not permitted. Coolers will be checked at the entrance.
For more information, call 201-420-2000 Ex. 5100 or email gfallo@hobokennj.gov.
The Spaghetti Dinner Block Party is an event that was started in 2005 to celebrate Hoboken's 150th Anniversary. The idea was to recreate a community event that took place in 1955 for the City's 100th Anniversary – a Spaghetti Dinner Block Party on Washington St.. It has been so popular that we continue this tradition with a similar event that takes place along the Hoboken waterfront, overlooking the Manhattan Skyline.