Have an event coming up? We'd love to share it!
The Fires: Hoboken 1978-1982 and (UN)ERASED
January 22 @ 2:00 pm

-

February 19 @ 5:00 pm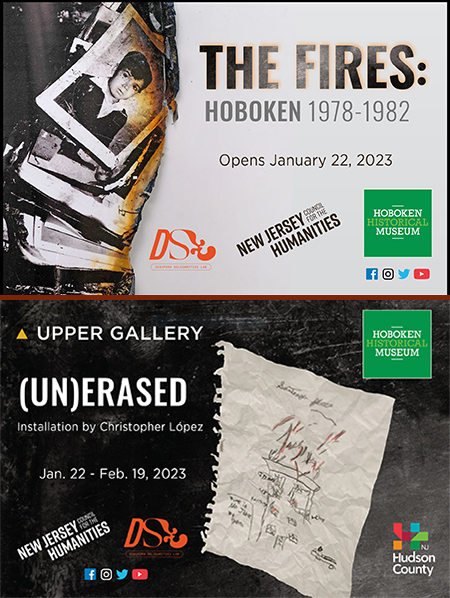 Join us on Sunday, January 22 at 2pm for the opening reception of two interconnected exhibits by photo-based artist and arts educator, Christopher López. "The Fires: Hoboken 1978-1982" shines a light on horrific events from Hoboken's early period of gentrification. This visual and oral history project will be on display in our Main Gallery. A companion installation "(UN)ERASED" will be on display in our Upper Gallery. On Friday, January 20 at 7pm, López will be interviewed on the Museum's YouTube channel by Museum Director Bob Foster as part of our ongoing "Artist Talks" series. The exhibits will be complemented with additional events scheduled for Sunday afternoons at 4pm.
In the Main Gallery exhibit, "The Fires: Hoboken 1978-1982,"  López uses text, imagery and audio clips from witnesses and survivors, taking us through a timeline of complex factors at play at a time when "young urban professionals" increased the demand for housing in Hoboken. There was a plague of fires in buildings that housed mostly Puerto Rican families. Nearly every fire, investigators determined, was the result of arson. This exhibit highlights the fifty-six people, mostly children, who were killed and the eight thousand that were left homeless.
López's work is augmented by the contributions of humanities scholars Yomaira Figueroa-Vásquez, Ph.D. and Dylan Gottlieb, Ph.D. Dr. Figueroa-Vásquez is a co-creator of The Diaspora Solidarities Lab, a multi-institutional Black feminist partnership that supports solidarity work in Black and Ethnic Studies. Of Dr. Gottlieb, an award-winning professor and historian on American cities and capitalism, López says, "He wrote a very compelling essay on the history of the Hoboken fires that was tremendously influential to me. It really sparked all of the work you see today. But besides his essay, there is no history. My work aims to change that."
In our Upper Gallery exhibit  "(UN)ERASED," López utilizes both contemporary and appropriated archival imagery to construct a visual dialogue through collage that evidences the human toll that arson played on mostly migrant communities during Hoboken's gentrification. The images on display aim to fill a void that challenges the conciliatory depiction of a gentrified city solely as being a place perceived by its newer types of residents and amenities but rather as a place that burdens the weight of erasure and the loss of life.
These exhibits were made possible with funds from The New Jersey Council for the Humanities, The Diaspora Solidarities Lab, and with support from a block grant from the State/County Partnership program for the Arts, administered by the Hudson County Division of Cultural and Heritage Affairs.