Have an event coming up? We'd love to share it!
Please submit events one month in advance to be considered
for the HC Shows & Goes Event Newsletter.
The Bayonne Annual Hometown Fair
June 3 @ 12:00 am

-

June 4 @ 12:00 am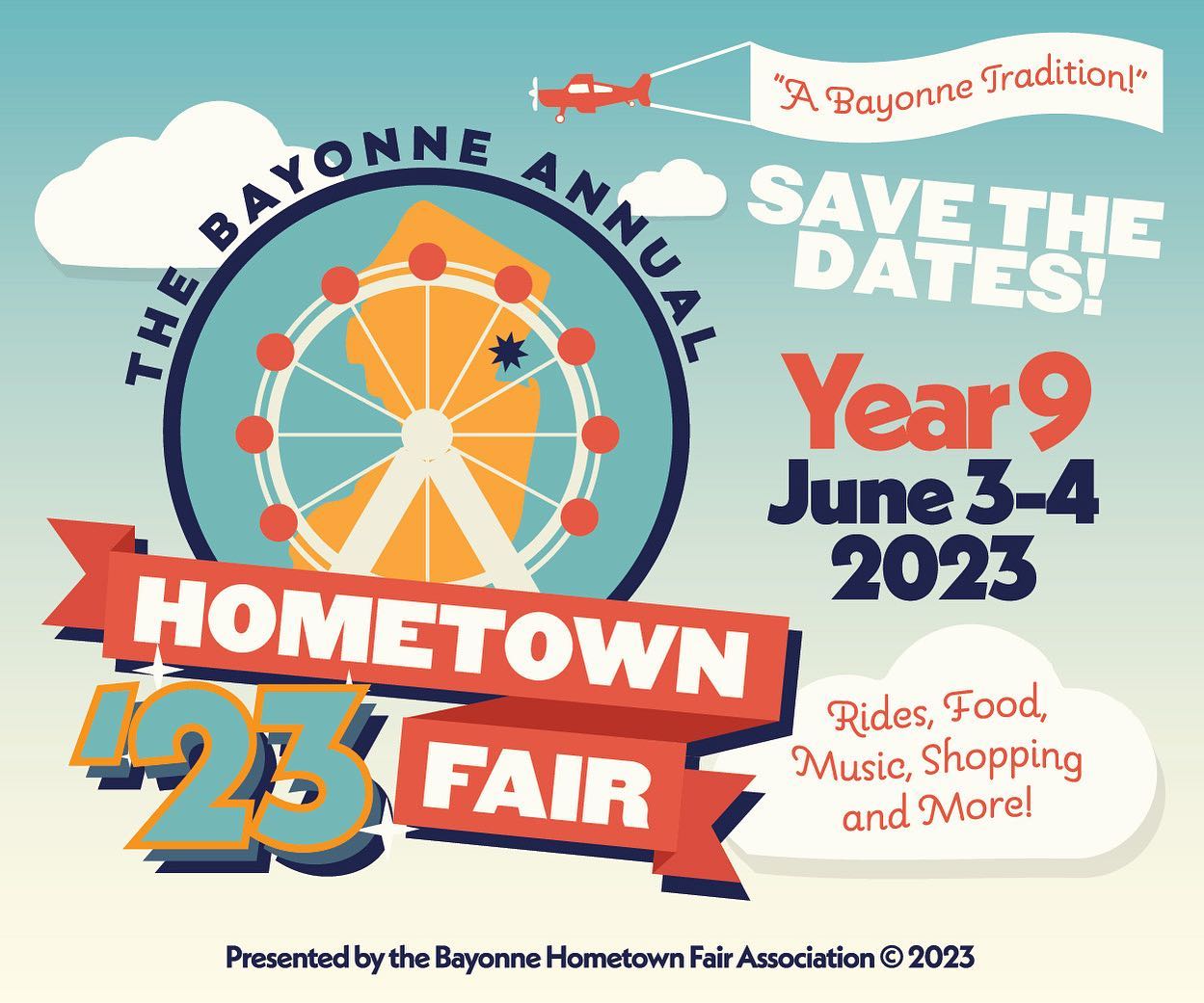 The Bayonne Hometown Fair Association is a non-profit with the State of NJ comprised entirely of unpaid Bayonne residents and business owners who volunteer their time to bring quality, community entertainment to the City of Bayonne.
​
OVER 100 VENDOR SPACES
There are over 100 vendor spaces occupied by merchants from Bayonne and the surrounding areas. Some are displaying finely crafted wares, some sharing information about their fine establishments & organizations, and some offering delicious delicacies for sale. 
The fine wares for sale include clothing, art work, jewelry, small toys, pet items, home decor, and more. You can also find information on local non-profits, children's services, home improvement, banking, real estate, and so much more. 
Make sure you come hungry! There is a wide and delicious variety of food to be sampled from sausage, hot dogs, empanadas, pulled pork, corn on the cob, cheesesteaks, and kabobs, to kettle corn, zeppoles, ice cream, pastries, cotton candy, and doughnuts- just to name a few!
​
TWO STAGES 
Both of our stages are filled with acts all day, both days of the Fair. 
Stop by the Main Stage, located in the heart of the Fair on 23rd Street, to enjoy lively performances from professional musicians of all genres. You can sit in our regular seating area, or enter the Beer Garden to beat the heat with a cold, adult beverage while you listen.
Or if you would rather enjoy entertainment focused toward our younger Fair-goers, check out the Community Stage at the north end of our Fair on 25th Street. This stage features acts from local Bayonne performers, such as from local acting troops, dance schools, musical groups, karate schools, etc., as well as professional children's entertainers. See our Latest News for schedules. 
​
BEER GARDEN
As we mentioned, you will find our Beer Garden, run by local bar The Vic Tavern, in front of our Main Stage in the heart of the Fair on 23rd Street. All adult beverages must be consumed within the marked off limits of the Beer Garden. 
​
MECHANICAL RIDES
We have a ride company that has been coming out every year to bring fun, exciting mechanical rides- including a 55′ Ferris Wheel! The company will have tickets for sale near the mechanical rides in the heart of the Fair on 23rd Street. 
​
INFLATABLE RIDES
Thanks to the generosity of the City of Bayonne's Urban Enterprise Zone (UEZ), all inflatable rides (bounce houses) are available to the children free of charge! They can be found at the south end of the Fair between 21st and 22nd Street. 
The UEZ also provides a DUNK TANK on 24th Street for local non-profits to use, free of cost, to raise funds for their organization. Email the UEZ for available times. 
​
CONTESTS
In 2019 we introduced our first contest- a Donut Eating Contest! With two rounds, one on Saturday and one on Sunday, of donut eating excitement everyone in Bayonne was a winner! Each contestant was provided with a platter of sprinkle donuts, sponsored by hometown favorite, Judickie's Bakery. The winners received a Donut Trophy and a Free Month long gym membership provided by Retro Fitness.
​
CARNIVAL GAMES
As of 2019 carnival games have come to the Fair! Keep a sharp eye out for the Candy Wheel and the Water Gun Race! 
​
OTHER FREE ENTERTAINMENT
There is always something fun going on at the Bayonne Hometown Fair Association Tent, just north of 23rd Street. At any given time you will find a story being told, characters such as Mickey Mouse or Peppa Pig to be photographed with, or other exciting entertainers like caricaturists or balloon artists.  Make sure to stop by and see us!