Have an event coming up? We'd love to share it!
Love Local Benefit Concert
May 16, 2020 @ 6:00 pm

-

8:30 pm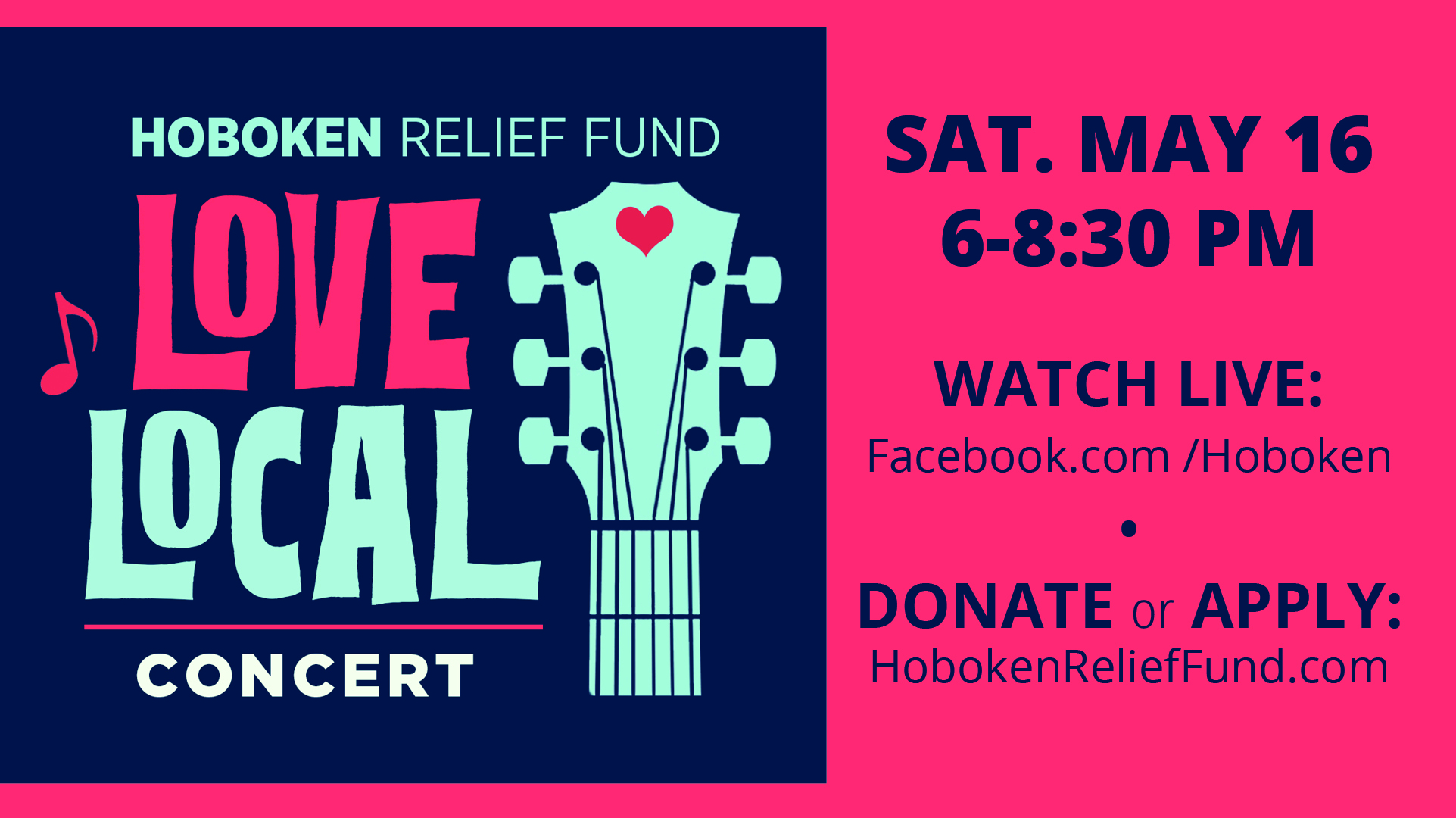 Hoboken Relief Fund's Love Local Concert
Mayor Ravi Bhalla
Buddy (Cake Boss) Valastro
Phil Cohen – Co-Chair, Hoboken Relief Fund
Jen Giattino – Co-Chair, Hoboken Relief Fund
Geri Fallo – Administrator of Cultural Affairs, City of Hoboken
Chris Manzo – Housewives of NJ and Manzo'd With Children.
Peter Biancamano – Senior Manager, Production & Voice-Over Lead at SportsNet New York, as well as Host/Executive Producer of North Jersey's highest rated cable access show "The Pulse with Peter B."
Jack Silbert – A sergeant with CERT, a member of the Library Board and a volunteer storytime leader at the Fire Museum. He is also an author and music buff.
Adam Wade: Audible Best Seller, 20 time MOTH StorySlam Champion, seen on HBO "Girls"
Concert Line-up
Ron Albanese (a.k.a POLKA DOT!) has entertained in Hoboken for over 20 years at park concerts, festivals, farmer's markets and family parties. He provides unique, upbeat family entertainment for the young and young at heart.
Jeremy Beck: Blurring the lines between vintage soul, gospel, and rock, Jeremy Beck's music with The Heavy Duty Horns creates an intoxicating musical powerhouse with a bold sound and a broad range. Beck has toured and performed with everyone from Bonnie Raitt to Missy Elliott.
Zack Alexander – is a Jazz vocalist who specializes in the style of Frank Sinatra and The Rat Pack. As the winner of the 2016 'Sinatra Singing Contest in Hoboken, he is dedicated to bringing the Great American Songbook to life for current and future generations.
Richard Barone is a recording artist, producer, and author. Since pioneering the indie rock scene in Hoboken, NJ as frontman of The Bongos, Barone has produced countless studio recordings and worked with artists in every musical genre, including Tony Visconti, Beach Boy Al Jardine, Sean Lennon, Dion, Donovan, Moby, the late Lou Reed, and folk legend Pete Seeger. He has staged all-star concert events at Carnegie Hall, the Hollywood Bowl, and New York's Central Park. His memoir Frontman: Surviving The Rock Star Myth was published by Hal Leonard Books. His latest album, "Sorrows & Promises", is a celebration of the early 1960s music scene in Greenwich Village NYC, where Barone lives.
Deena and Jon started the indie pop band The Cucumbers in Hoboken (back in the 1980s) Currently they perform as a duo and are also members of The Campfire Flies. Deena's songwriting has been called "direct and artful," by The New York Times. Her songs have been recorded by Jackson Browne and Dar Williams.
Elena and Boo of The Demolition String Band –
"The Demolition String Band has been based in Hoboken, NJ since the release of their first album "One Dog Town" in 1998. Fronted by singer/songwriter Elena Skye and multi-instrumentalist Boo Reiners, they now have seven albums under their belt and have toured the United States and Europe. Elena's co-write with Woody Guthrie, "Go Coney Island Roll On The Sand," was included on the Grammy nominated CD set "My Name Is New York; Ramblin' Around Woody's Town" and Boo was a featured performer on the Grammy award winning album "Wonder Wheel."
Julio Fernandez
"Guitarist Julio Fernandez, was born in Cuba and raised in Hoboken. He's been a member of the Grammy nominated jazz group Spyro Gyra for the past 36 years. When not on tour, he is very involved in the Hoboken community and local music scene."
The Fuzzy Lemons featuring Dana Harrison and Dave Lambert: The juiciest family-friendly rock band on the scene! With laugh-out-loud lyrics and memorable melodies, every song tells a story and every show is full of fun, inspiring everyone to dance and sing along.
Garden Street School of the Performing Arts – Dan McLoughlin, owner of Garden Street School of the Performing Arts: a Hoboken business for over 15 years, offering music, dance and theatre classes for all ages, and his son, Finn perform "Grateful"
by John Bucchino
Gene D. Plumber, has been working two jobs for a long time – he's been a fixture under sinks and on stage in Hoboken since the 1970's, performing his special brand of music he calls "swinging honkytonk-a-billy." The Americana feel in his music pays homage to his musical heroes, from the 20's and 30's through the 50's.
Karyn Kuhl – has been a key player in the Hoboken music scene ever since her acclaimed early bands Gut Bank and Sexpod were favorites at Maxwell's. In her current incarnation, she fronts the electrifying Karyn Kuhl Band. Her recent single, "Be Your Friend", was recently featured on the breakout TV hit Good Trouble.
Little RocknRollers is a fun, rockin' & educational music program for babies & toddlers. Developed & taught by Hoboken rocker Karyn Kuhl. The classes are highly interactive with the use of Karyn's original kids songs in addition to traditional & popular music.
James Mastro has been part of the Hoboken music scene since the early 1980s as a member of The Bongos, the first band to play Maxwell's infamous back room. He was also founding member of the Health & Happiness Show, and is stil an active working musician, touring with the likes of Ian Hunter, Mott the Hoople, Patti Smith, John Cale, and The Jayhawks, to name a few. He is also the owner of Hoboken's famous music shop The Guitar Bar.
Rockness Music
An interactive, super galactic – funk inspired, rock-n-roll show for families. The music is both silly and serious—filled with catchy melodies and thick instrumentation. Michael is the owner of Rockness Music which offers various programs for young children.
Glenn Morrow is a songwriter who has been performing since the birth of Maxwells. He also helped celebrate it's closing with his bands "a" and The Individuals. Afterwards he began writing and performing with Glenn Morrow's Cry For Help. He is also the owner of the Hoboken based Bar None Records putting out music by many different recording artists since 1986.
Abbe Rivers is a soulful singer/songwriter who has owned & operated Empire Coffee & Tea in Hoboken for 26 years. She performs locally and around NYC since forever, has recorded several CDs & has worked on famous stages with musical royalty, not to mention a viral video on YouTube with The Connection.'
Jack Skuller: celebrates his tenth year in the music business since his debut single at the age of 14 on Bar None Records. He received the Holly Prize in 2014, an award made possible by the Songwriters Hall of Fame as a tribute to the legacy of Buddy Holly.
Twiddling Thumbs – Jersey City duo (Erin and Ben) personifies the new wave of the Americana revival. Their original songs marry classic rural themes with modern urban sensibility.
Emily Turonis: is a songwriter and singer born and bred in Hoboken, NJ. With her soulful voice and poetic lyrics, Emily's music has the power to pull you in. You can follow her on Instagram @emilyandtheideals
Gary Van Miert of "The Sensational Country Blues Wonders!", Singer, Songwriter, Musician & Entertainer specializing in American Roots Music.
Andrew Wholf: Teenage guitar phenom Andrew Wholf combines a fresh take on blues and jazz-fusion with his original compositions. You can hear him wailing at the Hoboken train station and a variety of bars in the NYC metro area.
Watch the teaser video here!