Have an event coming up? We'd love to share it!
Live at Brennan's | Vivian Sessoms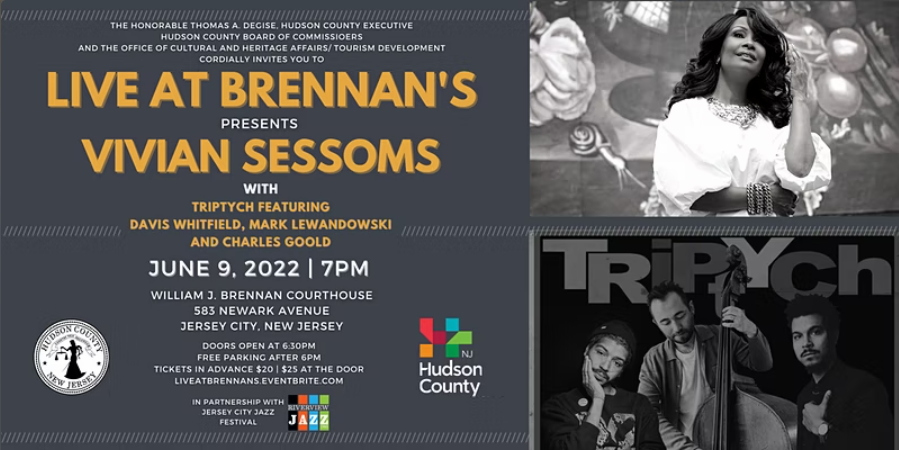 An exciting night of jazz music and light fare set in the historic William J. Brennan Court House
ABOUT THE PERFORMERS
Harlem native Vivian Sessoms, having amassed credits as backing vocalist for Chaka Khan, Rob Thomas, Cher, Michael Jackson, Stevie Wonder, Pink, Patti Austin, P. Diddy, Ryuichi Sakamoto, and a host of others, has proven herself a fiery and forward-thinking artist in her own right. Her offerings have met with praise in publications as diverse as Rolling Stone, Ebony, and Billboard Magazines. On her releases Sunny One Day, LIFE & LIFE II, projects she collaborated on with partner, producer and multi-instrumentalist Chris Parks, Sessoms has displayed an adventurous arranging sensibility and a refreshing disregard for genre boundaries.
Her expressive, sophisticated sound draws on jazz, R&B and pop in fresh and interesting ways, whether she's presenting her own material, or reinterpreting "Strange Fruit" for our own troubled times.
Through it all, Sessoms soars in a voice that is full and robust, unerring in pitch, and utterly at home in a wide variety of settings.
Vivian Sessoms will take the stage at 8PM.
Davis Whitfield is a talented pianist on the New York scene who has accomplished a lot at a young age. The son of two musicians, Davis was exposed to great music his entire childhood and started playing guitar at a very young age. He eventually switched to piano, where he began practicing and studying more seriously. In 2008, still in high school, Whitfield was appointed the Assistant Director for the Jazz Standard Youth Orchestra, performing at the New York City club weekly. He continued his studies at Berklee College of Music in Boston, where he was a recipient of the Presidential Scholarship – a top honor at Berklee. He has since gone on tours in the United States, France, and this Summer will be traveling to Spain with the Felix Rossy Quintet. He also performs and travels with his father, renowned guitarist Mark Whitfield, as well as his brother Mark Whitfield, Jr. — the three often times traveling together as the family band. Influenced by the likes of McCoy Tyner and Thelonious Monk, Davis has created a path and a voice of his own on the piano. He maintains a residency at Mezzrow in the West Village and performs with various artists as a sideman.
Triptych featuring Davis Whitfield, Mark Lewandowski, and Charles Goold will open the stage at 7PM
ABOUT THE VENUE
Placed on the National Register of Historic Places in 1970 and saved from destruction by concerned citizens, the William J. Brennan Courthouse housed the county courts and offices until 1966, when it was abandoned and left to crumble. After a complete restoration the building was reopened in 1985 and now houses the county's civil courts. Today, the courthouse has regained its former glory and often showcases local arts and music in its beautiful rotunda.