Have an event coming up? We'd love to share it!
Hoboken Historical Museum presents "NJ Women Make History"
September 13, 2020 @ 4:00 pm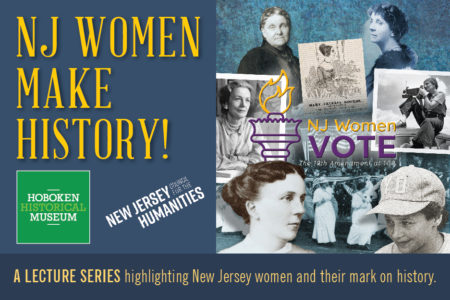 Hoboken, N.J. – Sept. 8, 2020 – The Hoboken Historical Museum is pleased to present an engaging eight-part lecture series focusing on New Jersey women who made their mark on history, as part of New Jersey's 2020 celebration of the centennial of women's right to vote. From groundbreaking photographer Dorothea Lange, to gender barrier-breaking baseball player Maria Pepe, both Hoboken natives, the series covers New Jersey women who made history in a variety of spheres, including politics, finance, philanthropy, art, poetry and sports.
The lecture series will be streamed online, with limited in-person seating at the Hoboken Museum, 1301 Hudson Street. All talks are free to attend, thanks to a generous grant from the New Jersey Council for the Humanities. Reservations are required for in-person and online participation: visit https://bit.ly/ NJWomenMakeHistory. To attend in person, face masks, hand hygiene and social distance guidelines will be observed.
Full schedule: All events begin at 4 pm, registration is required for online link and limited in-person seating (except Oct. 4, and Nov. 7, which are online only)
* Sunday 9/13 – Dorothea Lange: A Life Beyond Limits, by NYU Professor Linda Gordon
* Sunday, 10/4* – The Richest Woman in the World, Hetty Green in the Gilded Age, by Janet Wallach
* Sunday, 10/18 – Millicent Fenwick, Her Way, by Amy Schapiro
* Saturday, 11/7 – The Mysterious Death of Mary Rogers, by Amy Gilman Srebnick
* Sunday, 11/15 – Martha & Caroline Stevens, by Eileen Lynch
* Sunday, 11/22 – Anne Ryan: Her Art and Life, by Nancy Nikkal
* Sunday, 12/6 – NJ Women Poets Make History, with readings by 6 NJ poets
* Sunday, 12/13 – An Interview with Maria Pepe