Have an event coming up? We'd love to share it!
Art House Access JC Fridays – Free Citywide Arts Festival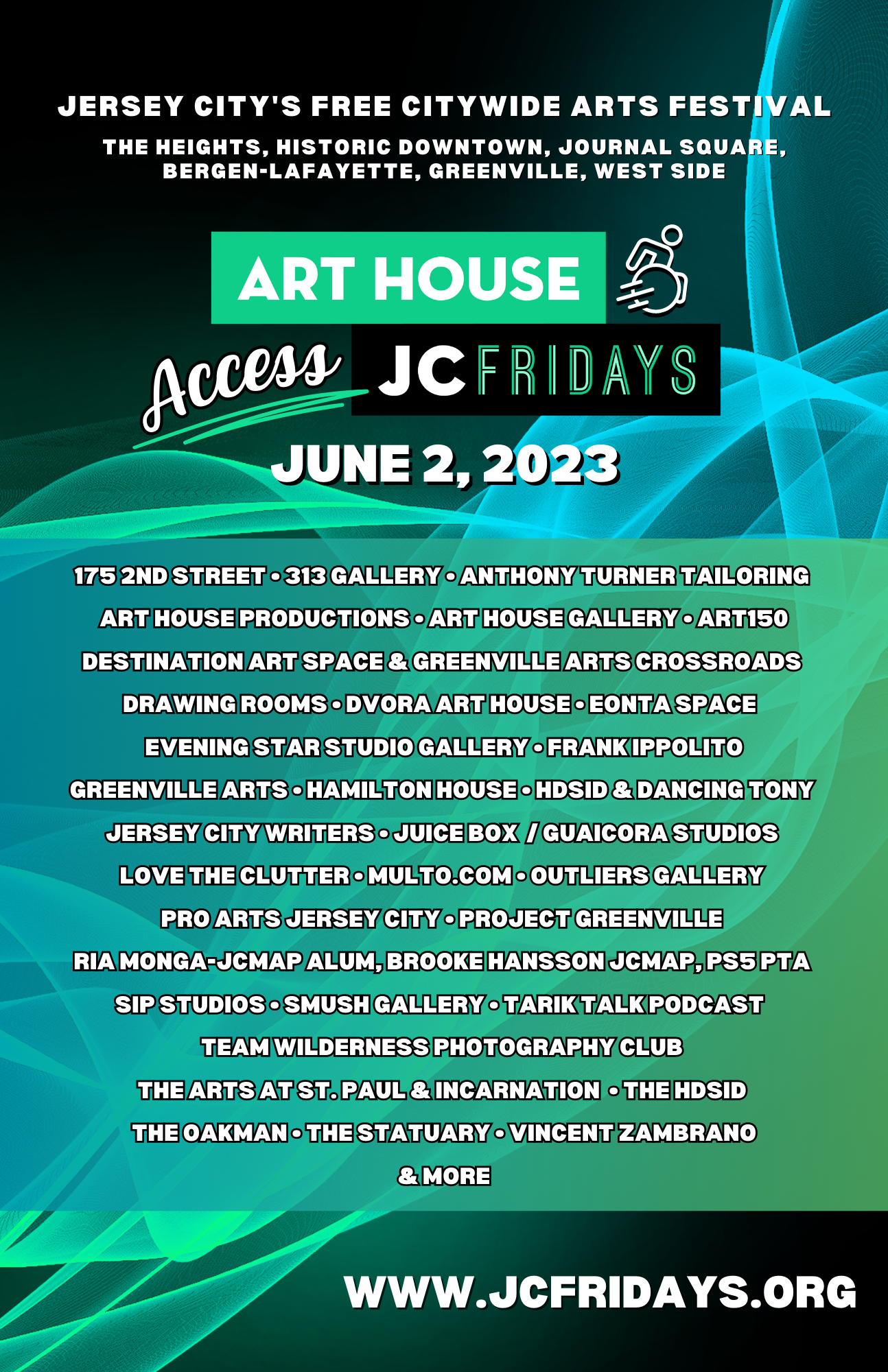 ACCESS JC Fridays on June 2nd features Open Studios, Live Music, Outdoor Events, and More
(Jersey City, N.J., May 24, 2023) — Art House Productions announces the lineup for our upcoming ACCESS JC Fridays on Friday, June 2. Jersey City's premiere quarterly arts festival will showcase a variety of happenings free to the public including visual art exhibitions, music performances, studio tours, and more hosted at local businesses, galleries, and arts organizations. Visitors are encouraged to travel place to place to discover art and to support the local arts scene. Full event listings and the event map are available on the JC Fridays website – www.jcfridays.com. 
JC Fridays is a seasonal multi-arts festival featuring arts-related events that take place in all 6 wards of Jersey City. Events are free and open to the public. As one of the preeminent art scenes in the tri-state area, Jersey City is abound with visual and performing artists of all types, musicians, and individuals with unique talents. JC Fridays is one of the best times for all artists to share their newest projects and works. 
Each June, Art House Productions presents ACCESS JC Fridays, which focuses on inclusion and accessibility. Participating venues will present work from artists with disabilities and/or work that celebrates disability in any of its many forms. Many of our venue partners have made their physical space accessible to all, including large print materials, ASL interpretation, captioning, and sensory tours.
Printable event listings can be found here. An interactive map is available online (www.jcfridays.com) to help patrons easily find artists and venues, as well as create their own schedule.
The Current Lineup Includes…
175 2nd Street, 313 Gallery, Anthony Turner Tailoring, Art House Productions, Art House Gallery, ART150, Destination Art Space & Greenville Arts Crossroad, Drawing Rooms, Dvora Art House, Eonta Space, Evening Star Studio Gallery, Frank Ippolito, Greenville Arts, Hamilton House, HDSID & Dancing Tony "Groove on Grove", Jersey City Writers, Juice Box/Guaicora Studios, Love The Clutter, MULTO.com, Outliers Gallery, Pro Art Jersey City, Project Greenville, Ria Monga – JCMAP alum, Brooke Hansson JCMAP, PS5 PTA, Sip Studios, SMUSH Gallery, Tarik Talk Podcast, Team Wilderness Photography Club, The Arts at St. Paul & Incarnation, The HDSID, The Oakman, The Statuary, Vincent Zambrano & More
JC Fridays Highlights by Neighborhood – June 2nd, 2023
Bergen-Lafayette
The Juror – Greenville Arts
788 Garfield Ave, Jersey City, NJ 07305
Friday, June 2, 7pm-12am
Come experience Natee Lambert's artistic journey and how he has incorporated his life experiences and cultural influences into his paintings. Lambert has a background in interior design, which has informed his artistic sensibilities and eye for composition. He is part of the Greenville community and that has influenced his art.
Journal Square
Accessibility Seminar + Art Showcase – Sip Studios
Sip Studios 140 Sip Ave, Jersey City, NJ 07306
Friday, June 2, 4pm-9:30pm
Learn the importance of making your art and events accessible, and how to apply it to your performances! Speakers, demonstrations and an Art Showcase.
Historic Downtown
Love The Clutter Presents Lori Perbeck Photography
23 McWilliams Place, Jersey City, NJ 07302 
Friday, June 2, 6pm-9pm
Join us at "Love The Clutter" for our opening night to showcase talented local photographer, Lori Perbeck. Gather with the community and meet the artist and enjoy refreshments from 6:00pm-9:00pm.
The Handmade Market & Groove on Grove: JC Fridays Showcase
Grove Street PATH Plaza
The HDSID & Dancing Tony
Friday, June 2, 1pm-9pm & 5pm-10pm
Join us for the JC Friday edition of the "Handmade Market," featuring 20+ unique artists and handmade goods vendors, eats, shopping and fun from 1pm-9pm. Later in the evening will be Groove on Grove, with 4 homegrown live music performances from 5pm-9pm. This event is FREE to attend, and is wheelchair accessible.
The Heights
Jersey City Jazz Nights – Walter Parks and The Unlawful Assembly
53 Congress St, Jersey City, NJ 07307
The Statuary
Friday, June 2, 7pm-10pm
The Statuary is thrilled to welcome back the originating artist and visionary behind The Statuary, Walter Parks, as he takes you through the world of Americana music and beyond. From blues to folk to gospel, jazz and back again.
Greenville
(p)Awesome Pets – Project Greenville
128 Winfield Ave, Jersey City, NJ 07305
Friday, June 2, 4pm-7pm
Join us this Friday & Saturday for an indoor/outdoor group art show (p)Awesome Pets, featuring work that explores the relationship between humans and their pets; and other animals too!
West Side
Words & Drums – Destination Art Space & Greenville Arts Crossroads
Three Thirds Cafe – 400 Claremont Avenue Jersey City, NJ 
Friday, June 2, 7pm-10pm
This Greenville based collective invites you to celebrate the words of homegrown poets accompanied by Jersey City percussionist, Carmen Arroyo. Curated by Rescue Poetix, this poetry event is where rhythm, words and community bloom. Don't miss this evening of refined groove ending with world music from, Georgina – La China Sonidera. Program produced by Melida Rodas of "Greenville Arts Crossroads" & "Destination Art Space"
Virtual
Tarik Talk Podcast // New Season
Friday, June 2 
Brazilian artist Tarik Mendes hosts "Tarik Talk," a podcast committed to the art world. Listen in to unique interviews with talented guests artists, dealers, curators and more. At times with other talented guests from the music, acting, journalism industries. Find out the magic of art and its way of connecting us all! Check out @tariktalk for images of the guests and their works from each episode. Also follow @tarikmendes for his latest adventures!
………………………………………………………………………………………………………
Additional events are added to the lineup daily, check out our website for the latest event listings.
Art House Productions is committed to accessibility and inclusivity in all the public programming presented by our organization. A list of wheelchair accessible events can be found here: www.jcfridays.com/blog/categories/wheelchair-accessible 
ABOUT ART HOUSE PRODUCTIONS
Art House Productions is a 501(c)(3) nonprofit organization committed to the development and presentation of the performing and visual arts in Jersey City, NJ. Art House Productions presents theater, performing and visual arts festivals, arts events, visual art exhibitions, and adult and youth art classes. For more information about our programs, please visit www.arthouseproductions.org or stop by the Arts Center at 345 Marin Boulevard in Jersey City. Follow on social media @arthouseproductions @arthouseprods To sign up for Art House's mailing list, please click here: http://eepurl.com/hd1FCj.
Art House Productions is generously supported by The New Jersey State Council on the Arts, Public Funds from the Jersey City Arts and Culture Trust Fund, The Jersey City Arts Council, The Princeton Area Community Foundation, SILVERMAN, KRE, CoolVines, The SVOG, The New Jersey Theatre Alliance, and The Hudson County Office of Cultural Affairs. A full list of funders can be found on our website.