Have an event coming up? We'd love to share it!
Please submit events one month in advance to be considered
for the HC Shows & Goes Event Newsletter.
49th Annual NJ Young Filmmakers' Festival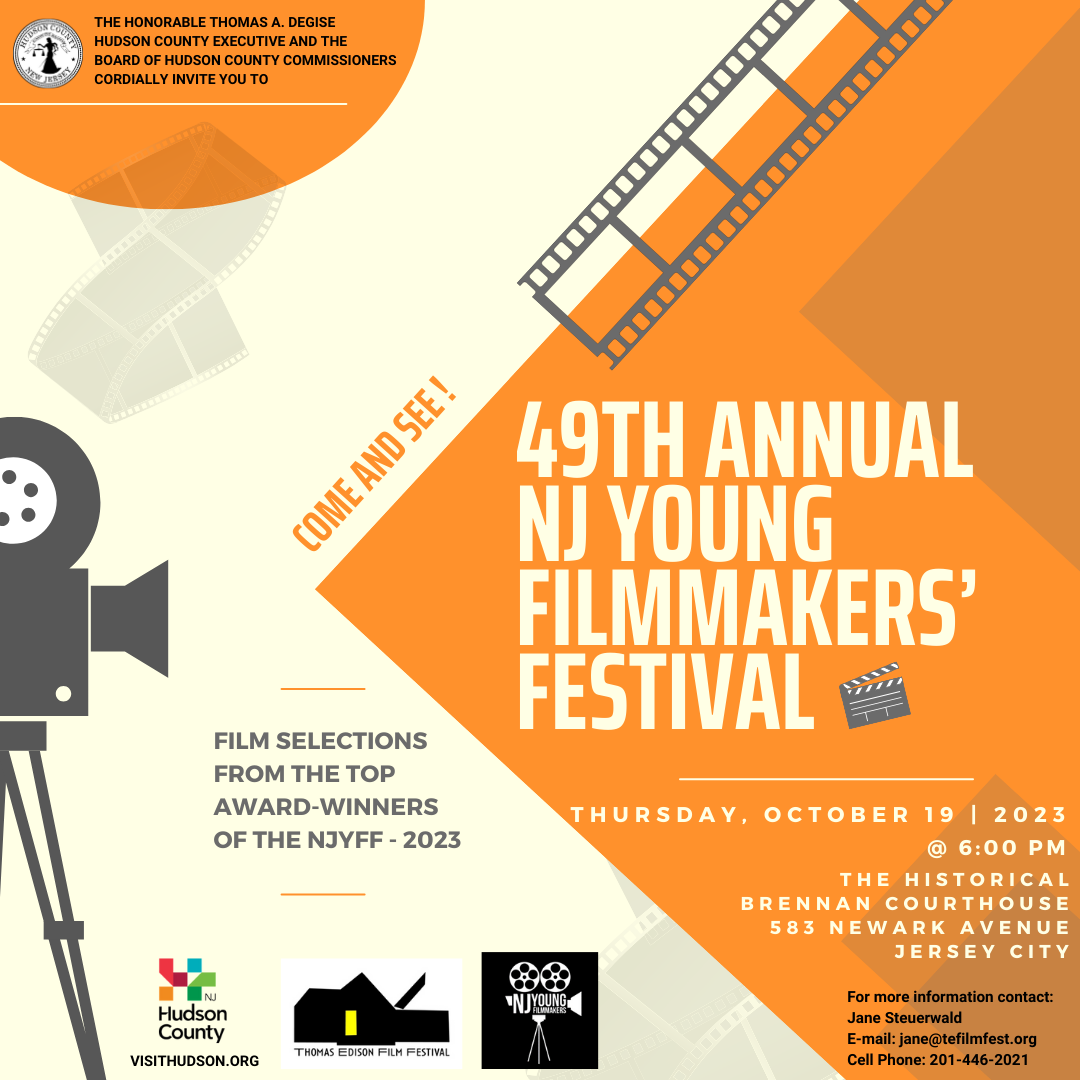 The 49th Annual NJ Young Filmmakers' Festival
A project of the Thomas A. Edison Media Arts Consortium 
This program is made possible through the generosity of the Hudson County Office of Cultural Affairs & Tourism Development, Gina Hulings, Director.
The Thomas Edison Media Arts Consortium is please to present a selection of films from the 49th Annual NJ Young Filmmakers' Festival, to be held live in-person on Thursday, October 19th at 6:00pm in the Rotunda at the William J. Brennan Courthouse, 583 Newark Ave., Jersey City, NJ. Please note, this is a FREE event and refreshments would be served. Parking is also free and available at the Courthouse. Students, family, friends and the public are all invited to attend.
The winning student filmmakers are from high schools and colleges across NJ including Bergen County Technical High School, Teterboro, NJ; East Brunswick Magnet School, East Brunswick, NJ; Howell High School, Farmingdale, NJ; Middletown High School South, Middletown Township, NJ; Park Ridge High School, Park Ridge, NJ; Princeton University, Princeton, NJ and Rochester Institute of Technology (RIT), Rochester, NY.
The NJYFF program at the William J. Brennan Courthouse, will begin at 6:00pm with a screening of some of the top Jury's Choice and Jury's Stellar award-winning films.
About the New Jersey Young Filmmakers Festival:
The NJ Young Filmmakers' Festival (NJYFF) is a project of the Thomas A. Edison Media Arts Consortium. It provides young filmmakers, who either live in or attend school in the State of New Jersey, the opportunity to exhibit work and have it evaluated by prominent representatives in the field of media arts. Since its inception, the purpose of the festival has been to recognize, celebrate, and encourage emerging new talent in New Jersey, the state in which Thomas Edison first developed the motion picture.
NJYFF was launched in 1974 by a group of educators and film enthusiasts in collaboration with New Jersey Institute of Technology in Newark, NJ.
The central mission of NJYFF is to connect student filmmakers and their teachers with opportunities in the field of film production, and to support their career goals. To that end, NJYFF organized a cooperative known as the NJYFF Coordinating Committee made up of teachers in public and private institutions, media professionals, and faculty from NJ universities.
NJYFF seeks to build awareness of the educational importance of film production for students and teachers in NJ and beyond, including NJ residents attending colleges and/or universities out of state. We encourage best practices in teaching media, support student filmmakers and their teachers, and aim to expand opportunities for student filmmakers. We support connecting students who are serious about filmmaking with others across the state on productions including music students, acting students, writers, art students and others who are passionate about the art of film.